I met Avery at a fine art photography workshop held in Savannah, Georgia earlier this year. She was such a sweet lady, very warm and kind, a quiet soul. She told me she was getting married in October 2017, so I decided to have a spontaneous drawing at the workshop to see if she would win one a Wedding Story Writer Vow Book. I was totally shocked when she actually won! (No, I didn't draw her name, either!) We made a special vow book for her and her new husband, Jack. We call it The Silhouette, found in our Meaningful Collection.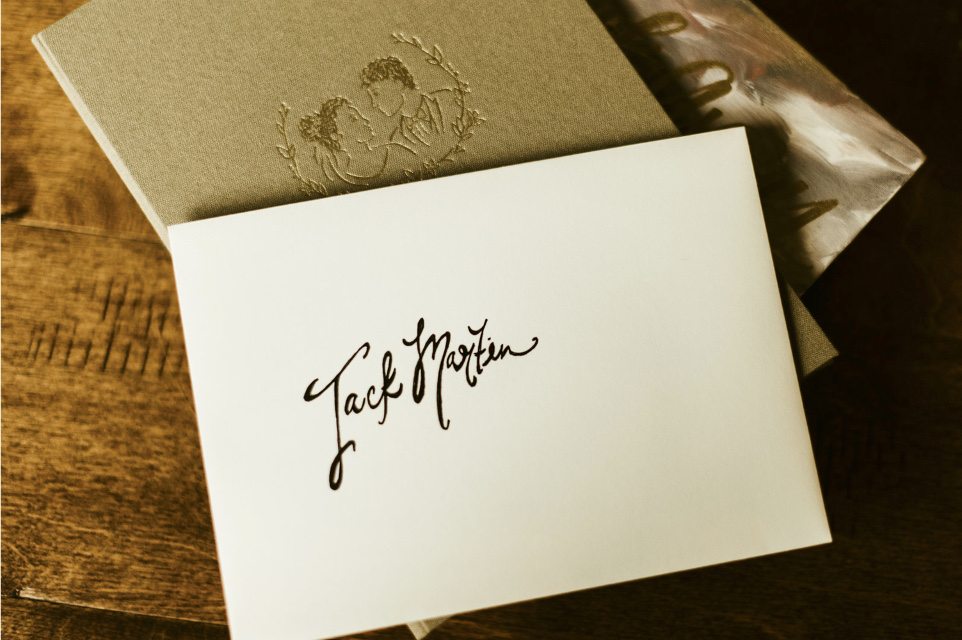 This vow book design was taken out of a love for antique cameos from the 16th century depicting gods and goddesses, heroes and rulers. Napoléon wore a cameo to his wedding, inspiring other gentlemen to do the same. The bride in the design wears an orange blossom veil and the couple are surrounded by myrtle leaves. Silhouettes became popular in the 17th through 19th centuries prior to photography. We created a modern version of both ideas, blended together for our loving couples who have sentimental hearts, without having to wear the actual jewelry piece. It's a symbol of love, peace, and fidelity.
We love that Kayla Johnson took a photo of the vow book with Avery's love letter to Jack. It makes their vow book all the more meaningful to be pictured next to another heirloom piece. We wish Avery and Jack the warmest congratulations and thank you for sharing your wedding photos with us!