FINE ART VOW BOOKS & HEIRLOOM BOXES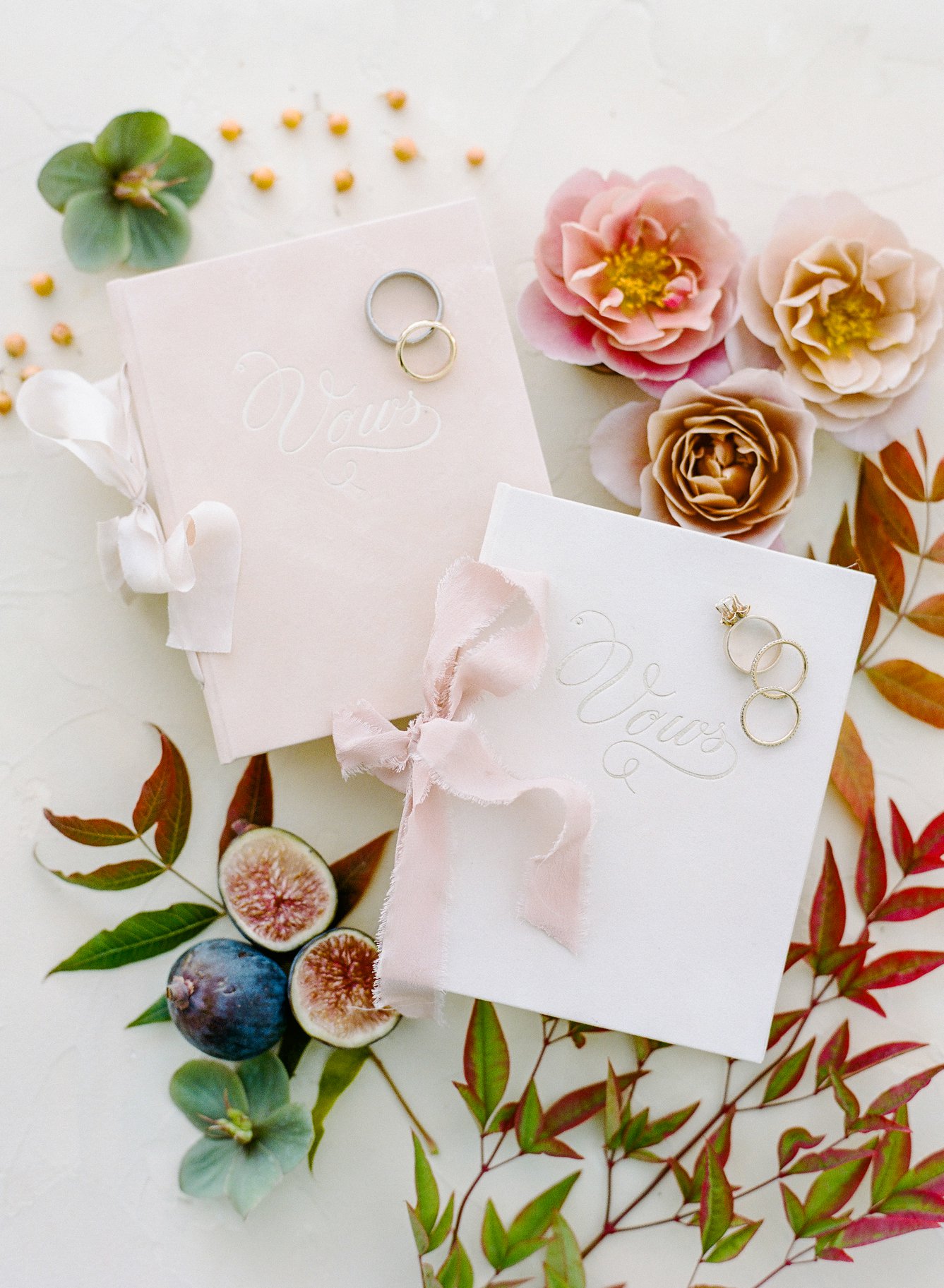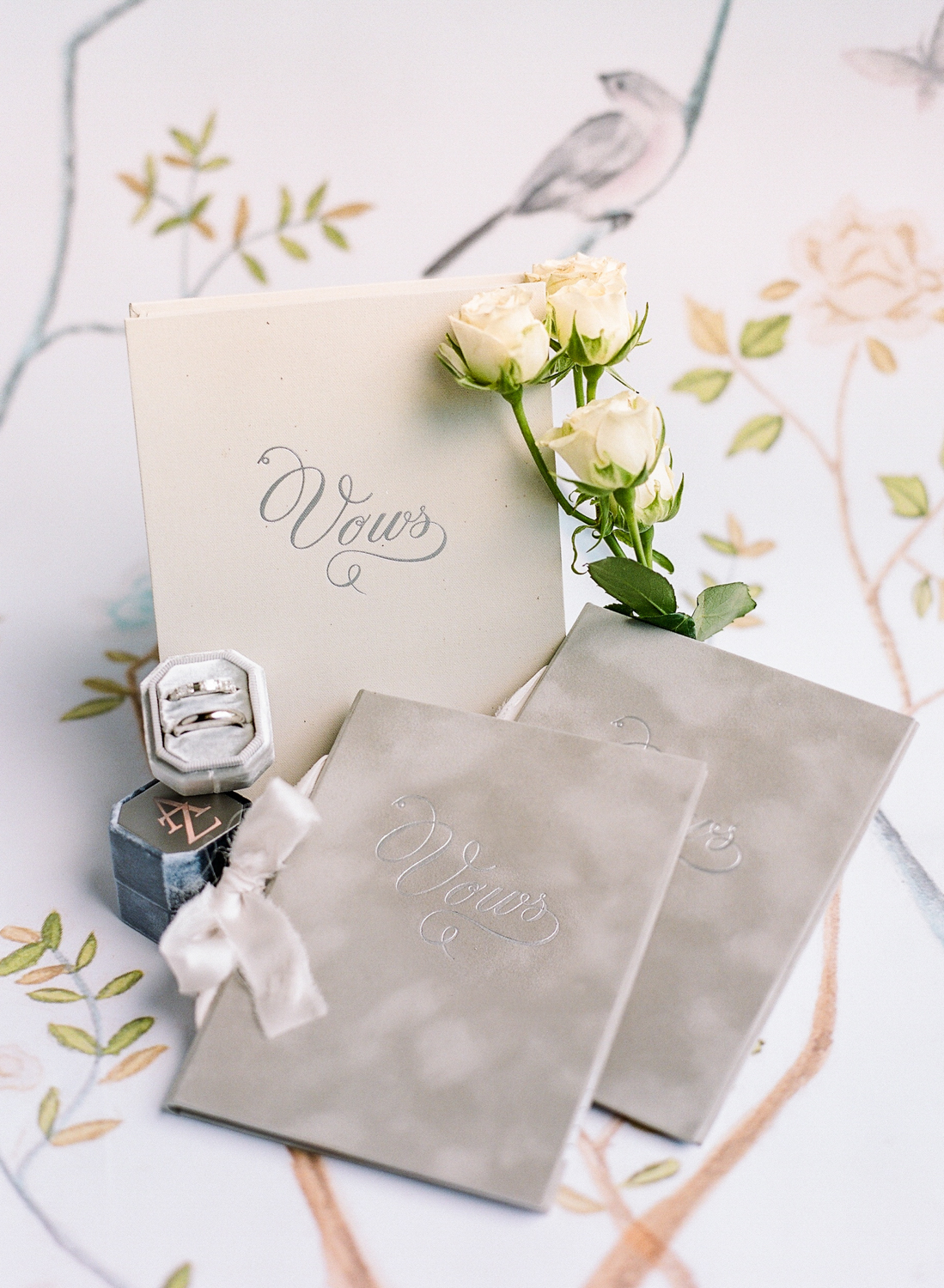 We offer a wide variety of colors and fabrics for our fine art vow books and boxes, including linens, flocked velvets, silk velvets, and vintage fabrics. We have seasonal color choices, and carry standard colors year-round.
Custom color services are available to match your stationery suite.
Kindly note that dye lots vary and some substrates change color depending on the lighting. We recommend purchasing a swatch kit to choose the exact color you would like.
We are happy to offer our couples classic cover designs from current or previous collections, as well as custom designs. For more information, please ask for a digital brochure.
Wedding Professionals:
Please contact us directly if you are a boutique owner, event planner, or another professional seeking a specific Pantone color for your clients.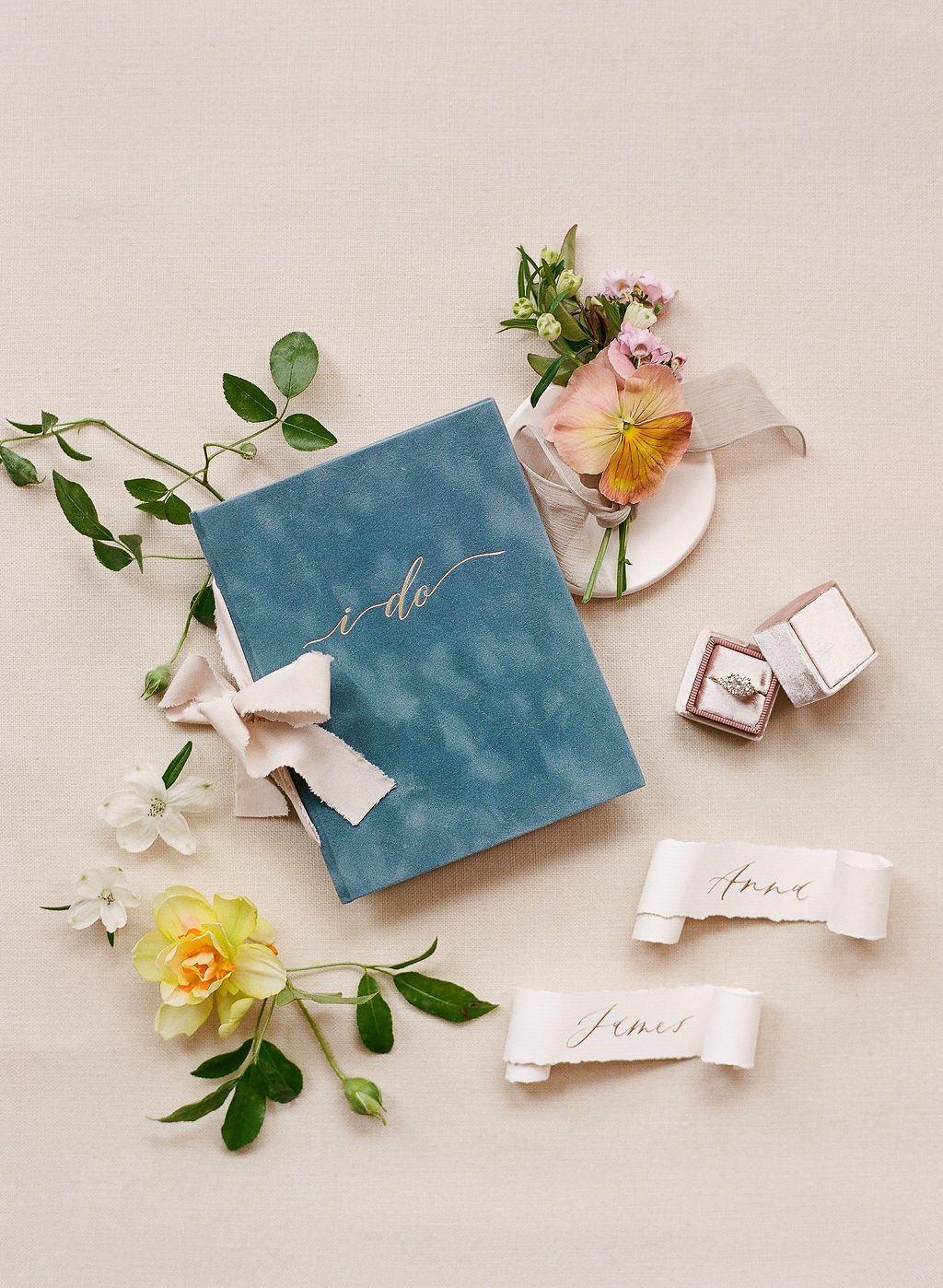 Soft, delicate flocked velvet has the appearance of suede that changes color ever-so-slightly in light. Swatches are highly recommended.
Photo: Seascape flocked velvet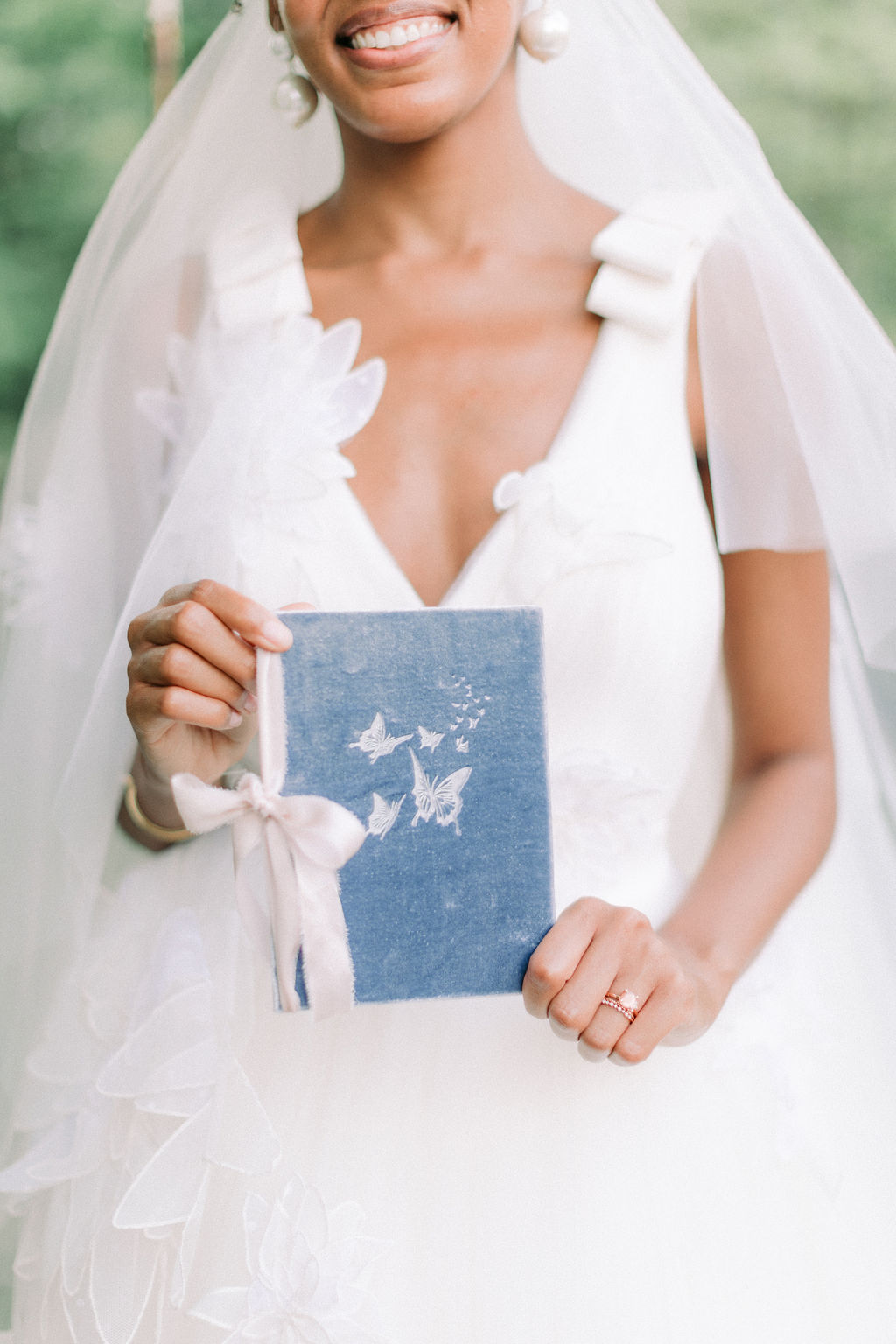 SILK VELVET &
VINTAGE FABRICS
We special order exquisite silk velvet and source vintage fabrics capable of making beautiful vow books or to line the interior of our heirloom vow book boxes.
If you have a special request, please inquire.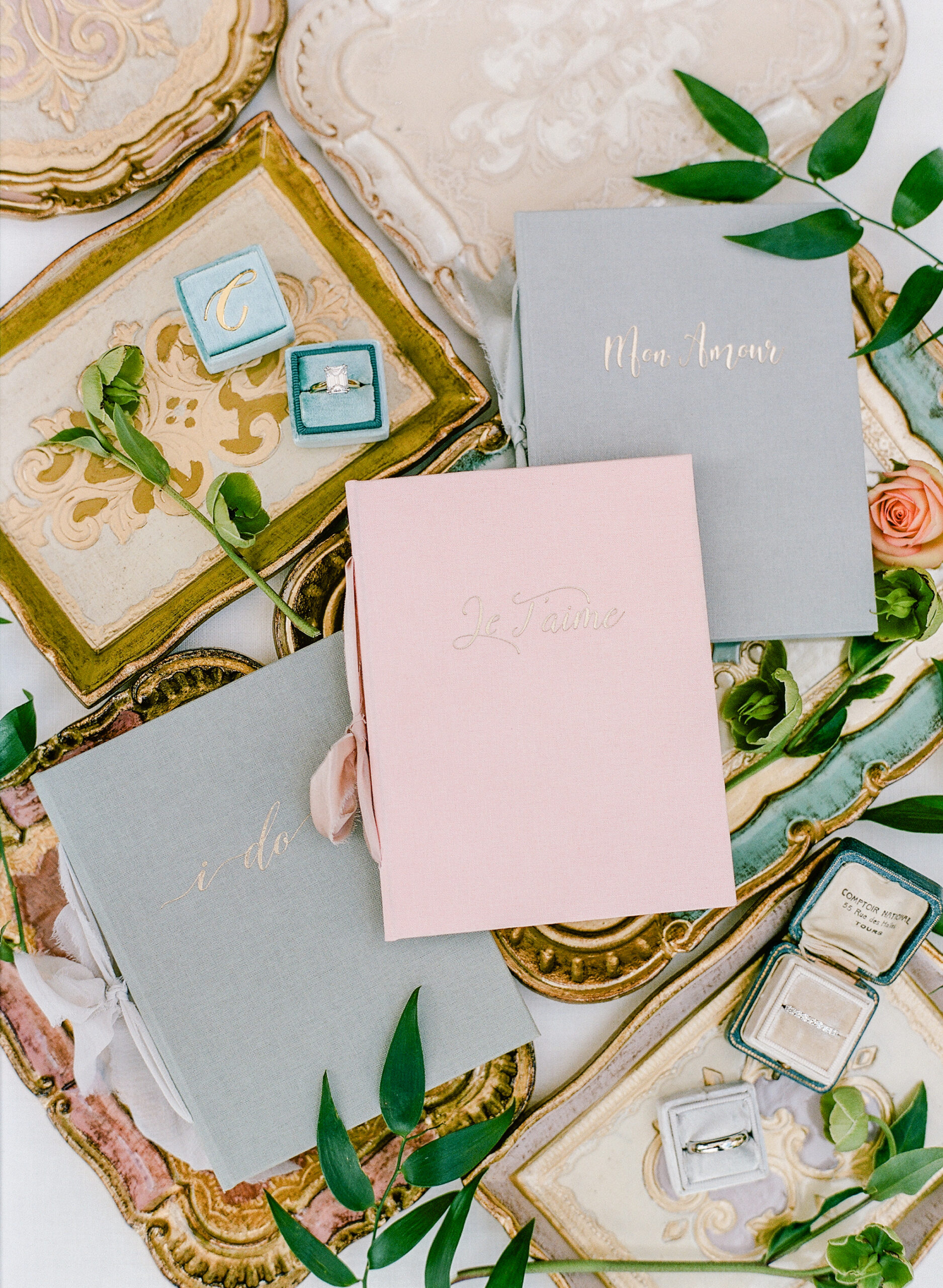 Linen is a timeless choice for a clean, crisp book covering, lending a classic touch to your wedding essentials. Perfect for vow books, boxes, toast booklets, programs, welcome books, our linen range offers versatility. With 14 base colors and additional seasonal options, you're sure to find the right shade. Occasionally, we have surplus fabric from other projects, so your desired color might already be available.
If you're seeking a unique hue, custom colors can be
accommodated upon request.
For added convenience, we also offer water-resistant linen substrates, ideal for safeguarding toast booklets--because, let's face it, champagne mishaps can occur during receptions.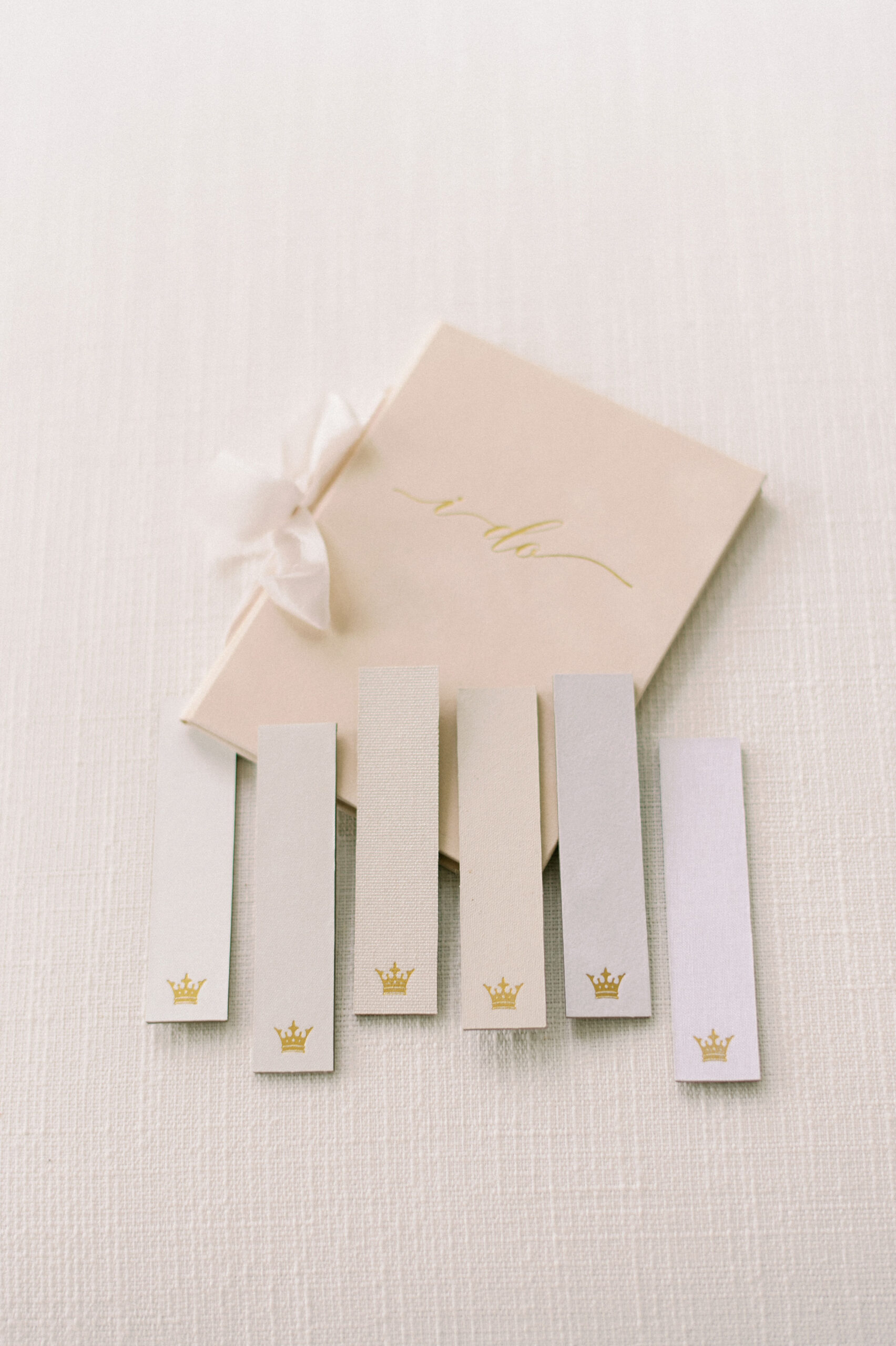 If you're uncertain about your preferred color, consider trying our swatch sticks. With eight different colors, they're not only enjoyable to experiment with but also your choice guide. Share your wedding colors with us and we'll assist you in picking complementary shades. As part of our custom design packages, clients enjoy complimentary swatches.
Vow Book Gallery
We are honored when brides, grooms, and wedding photographers share their beautiful images with us. When we aren't there in person while writing a wedding story, having a beautiful photo is the next best thing. We are so grateful for the wonderful clients of which we have been blessed and look forward to displaying your photo here in our digital gallery, as well as on our studio wall, too!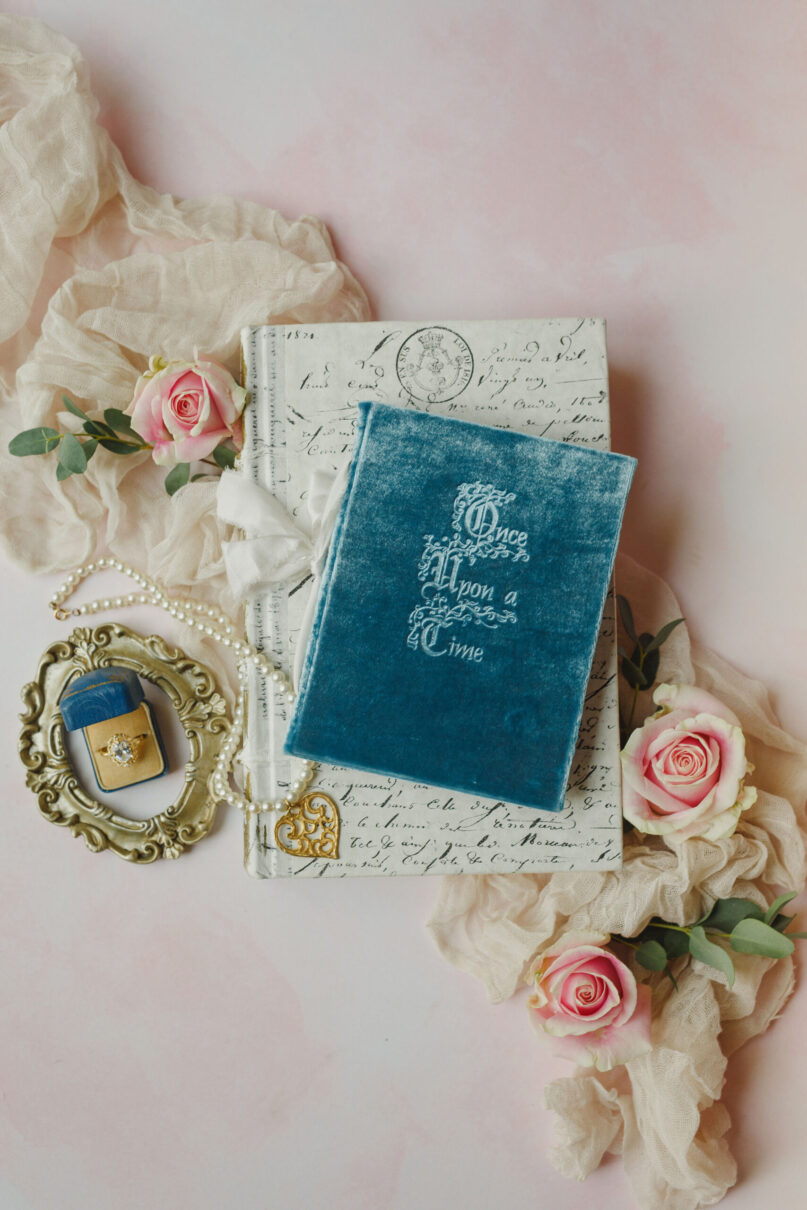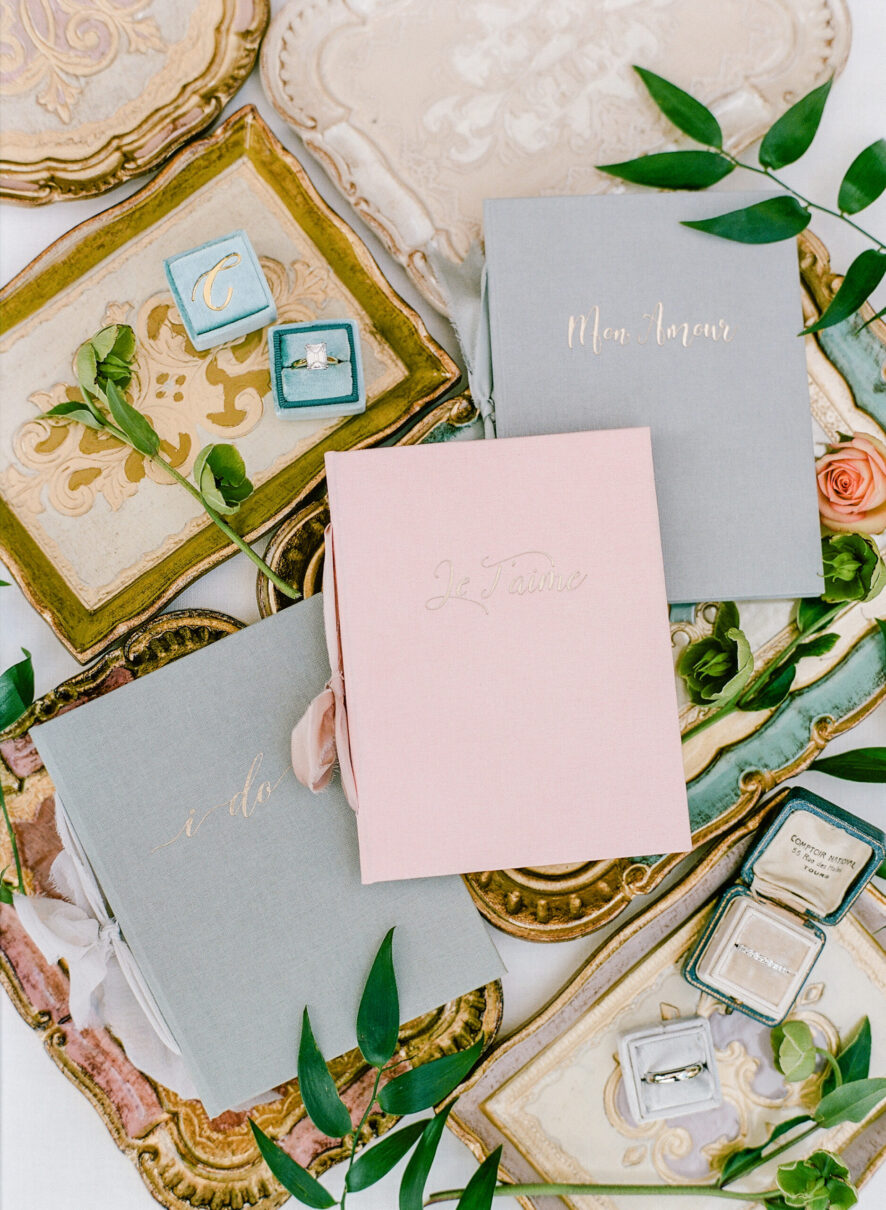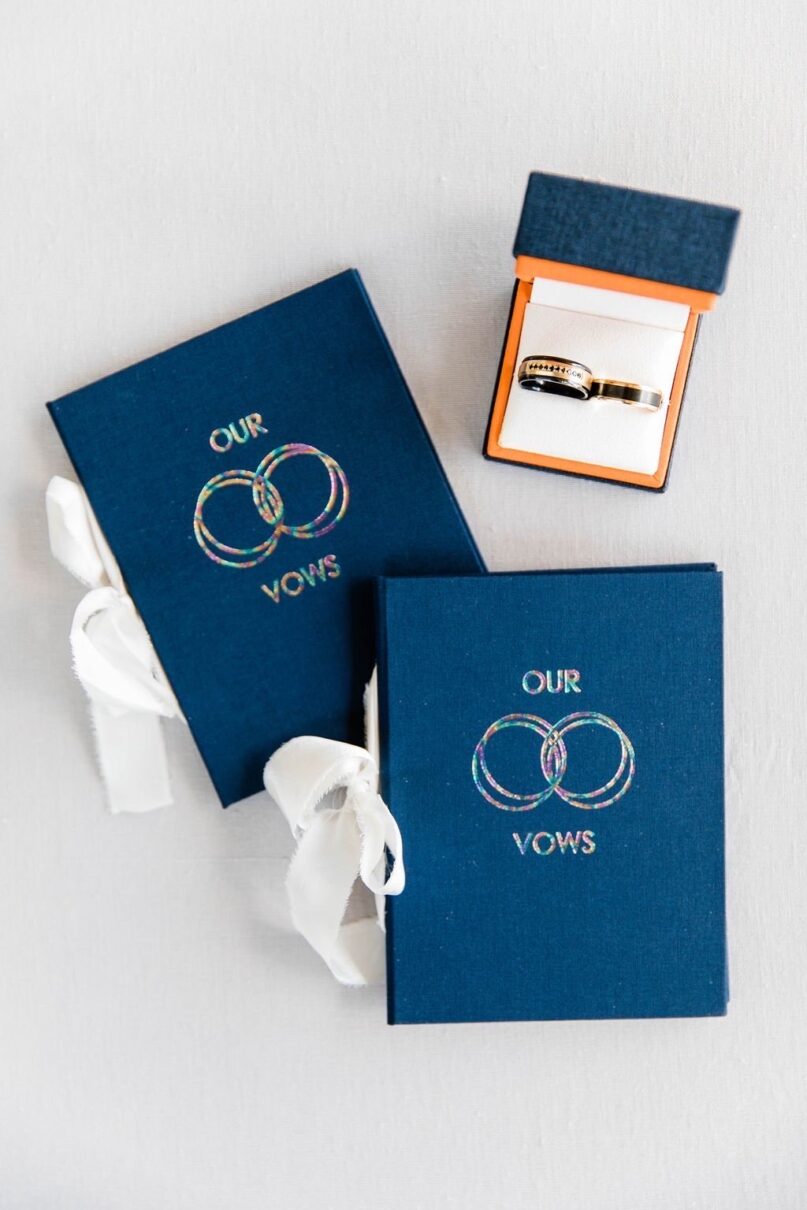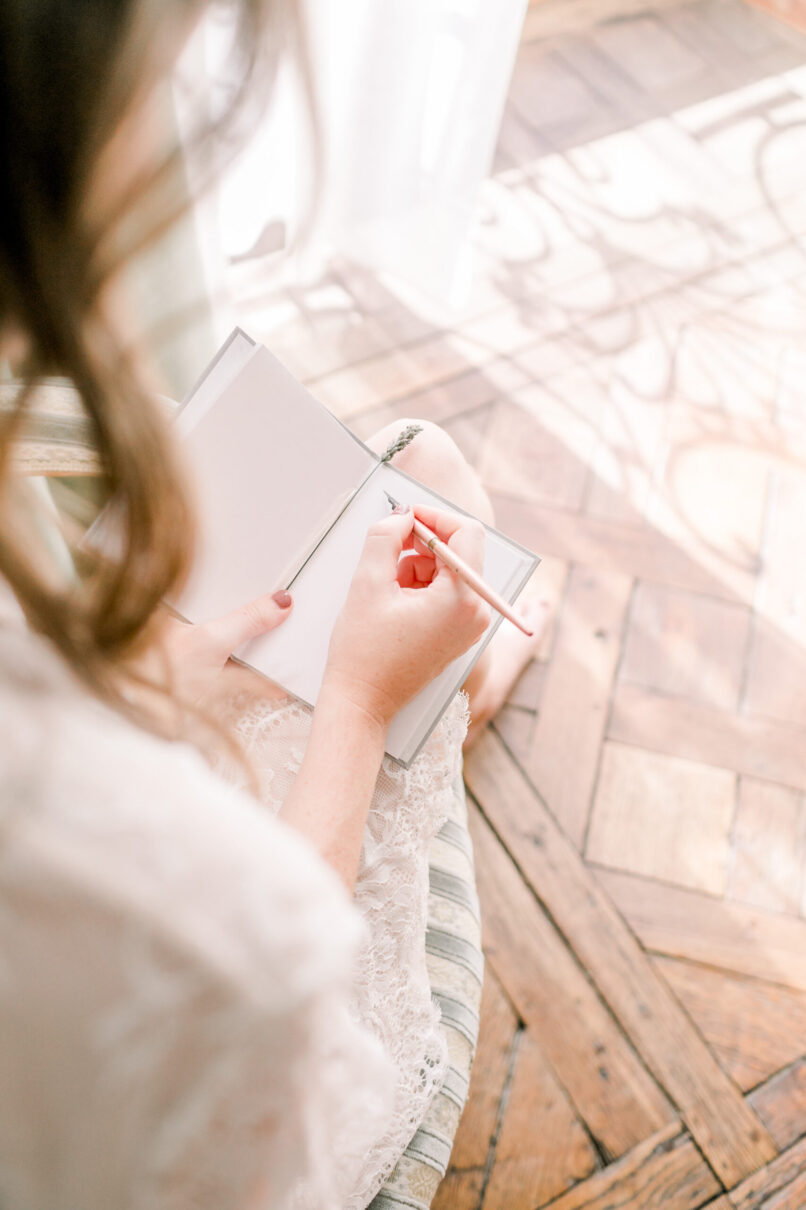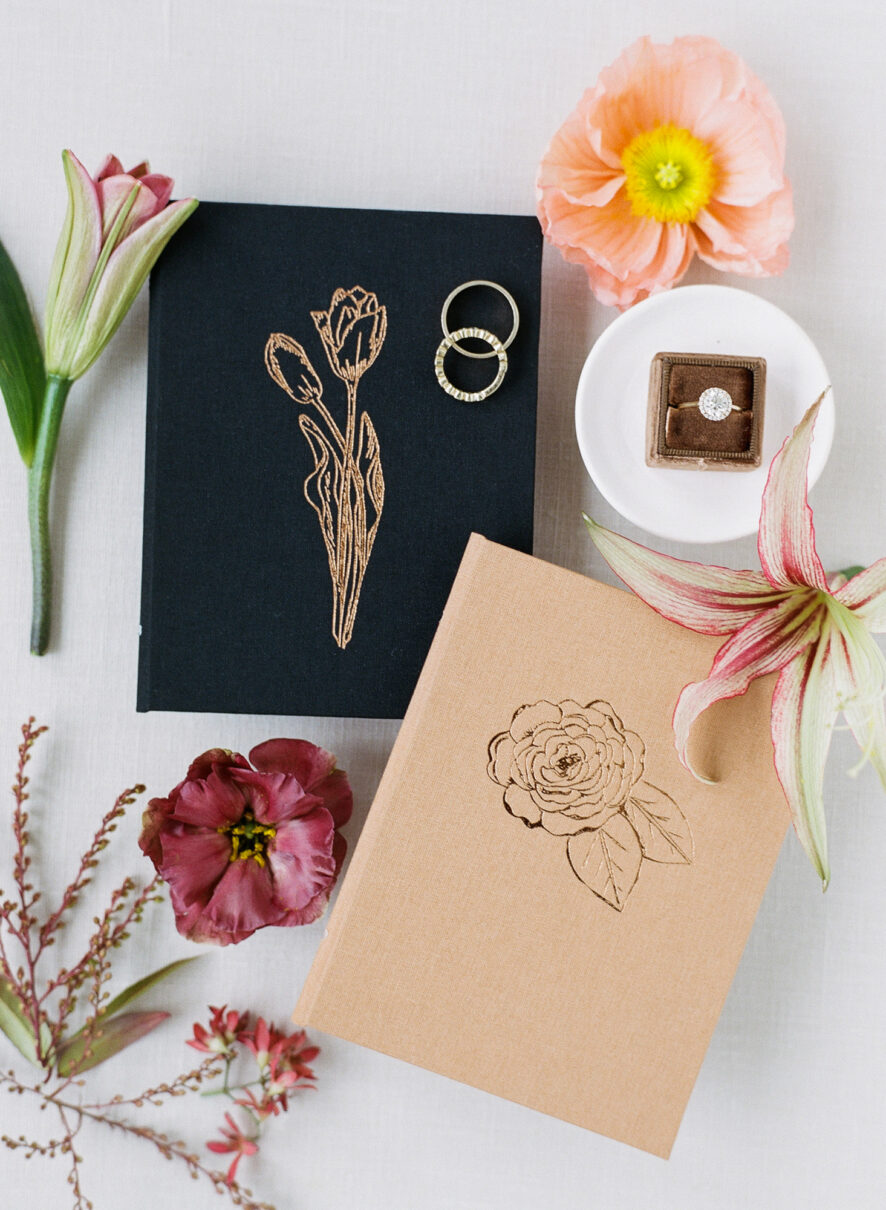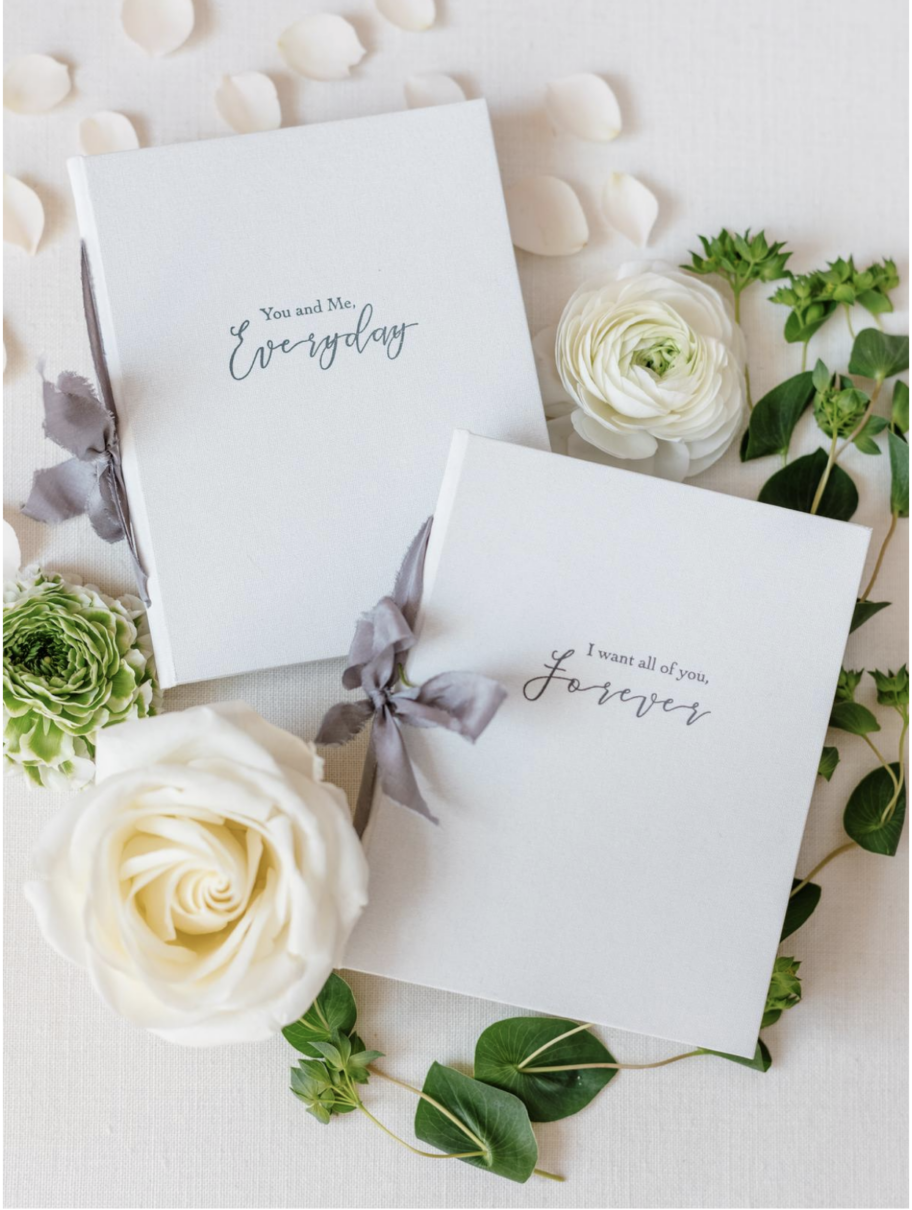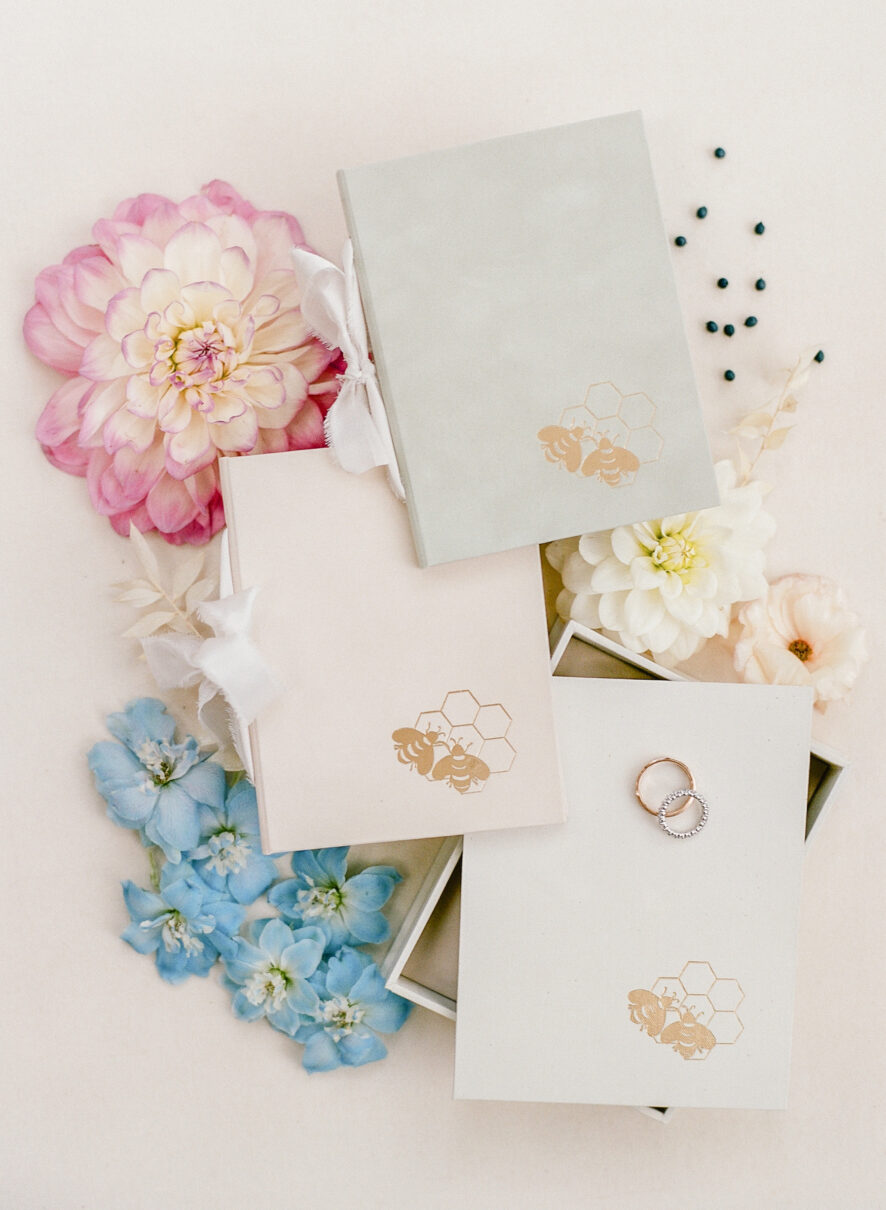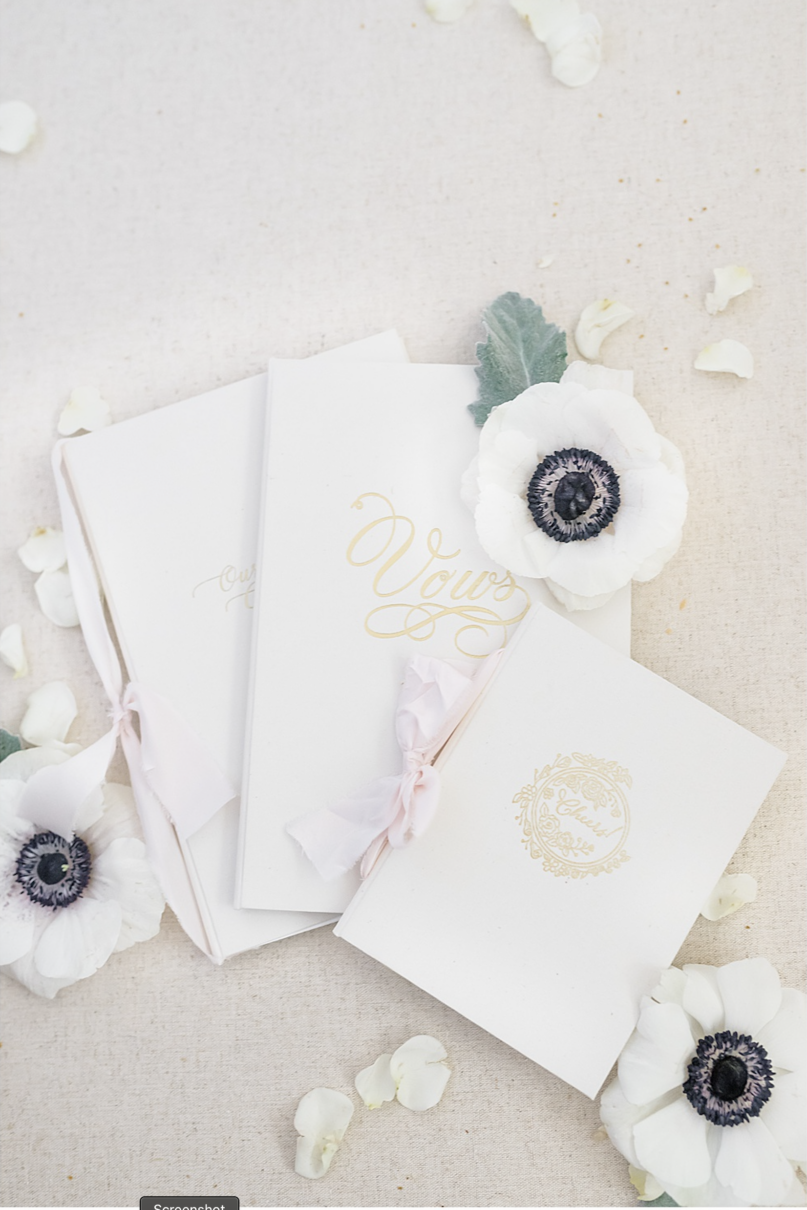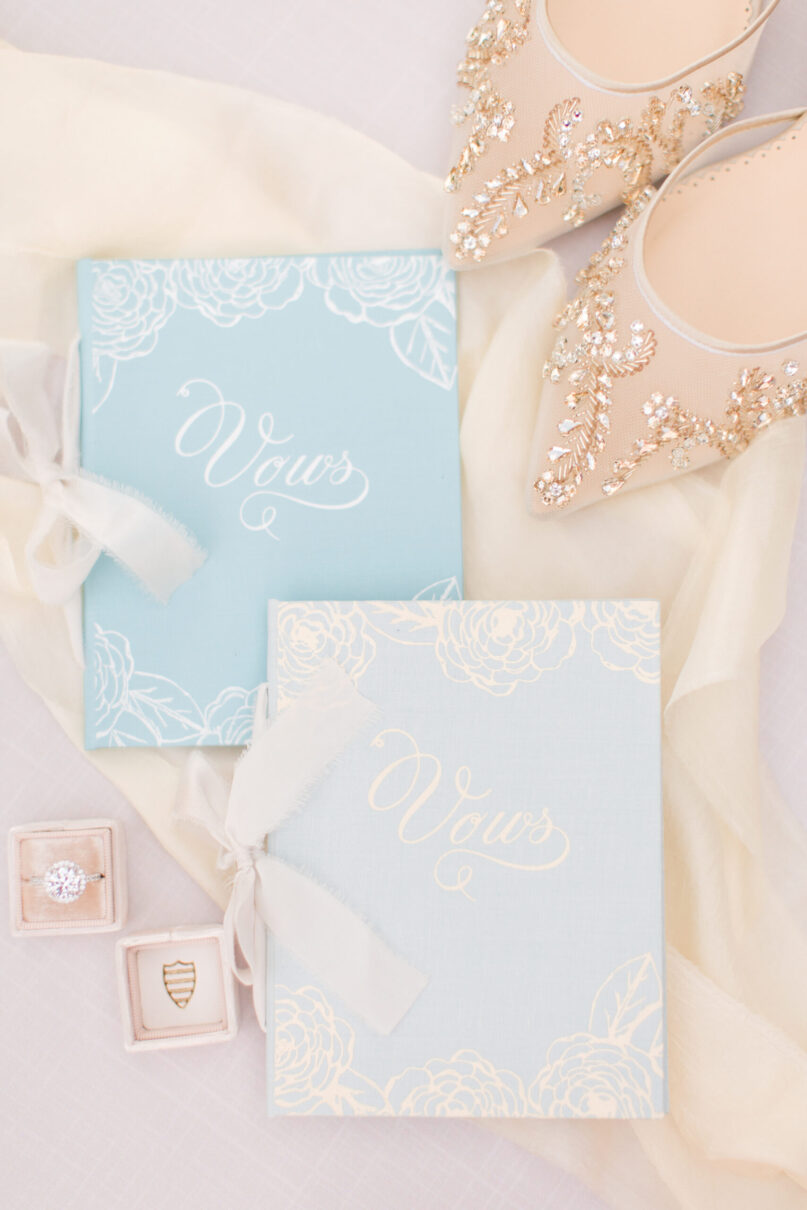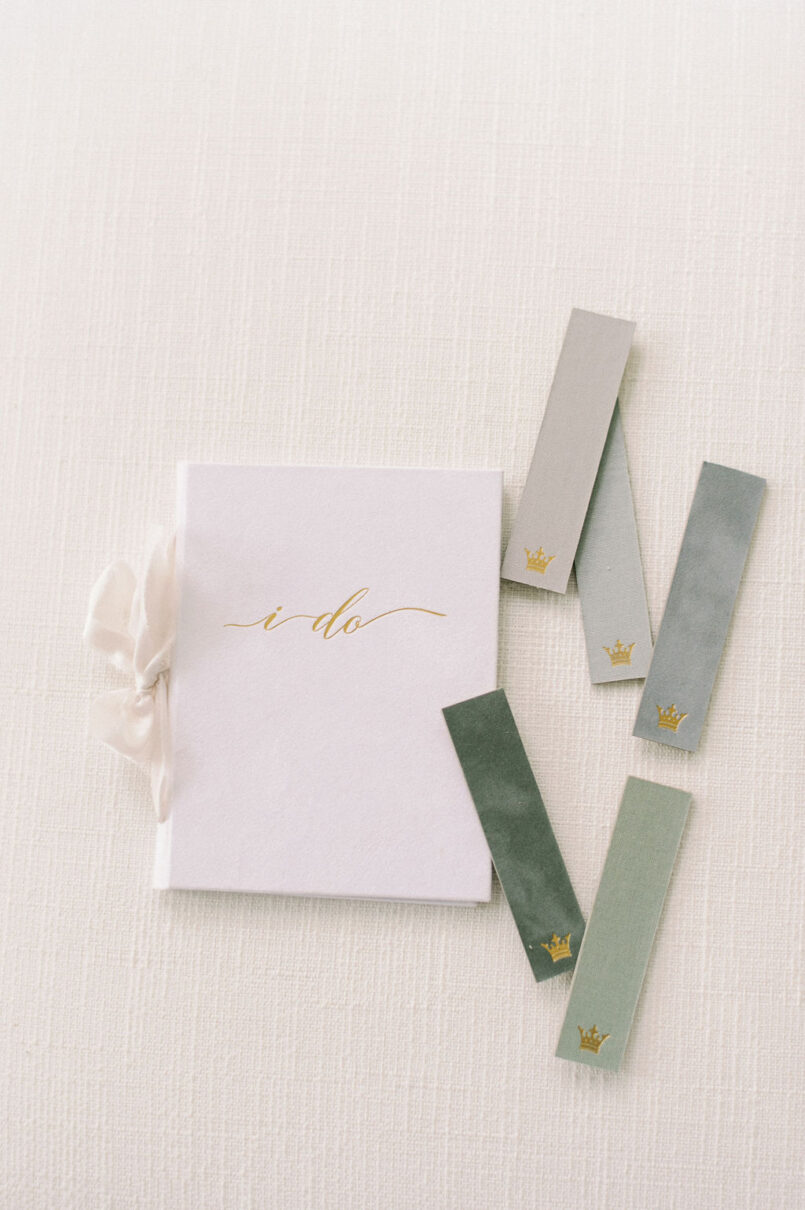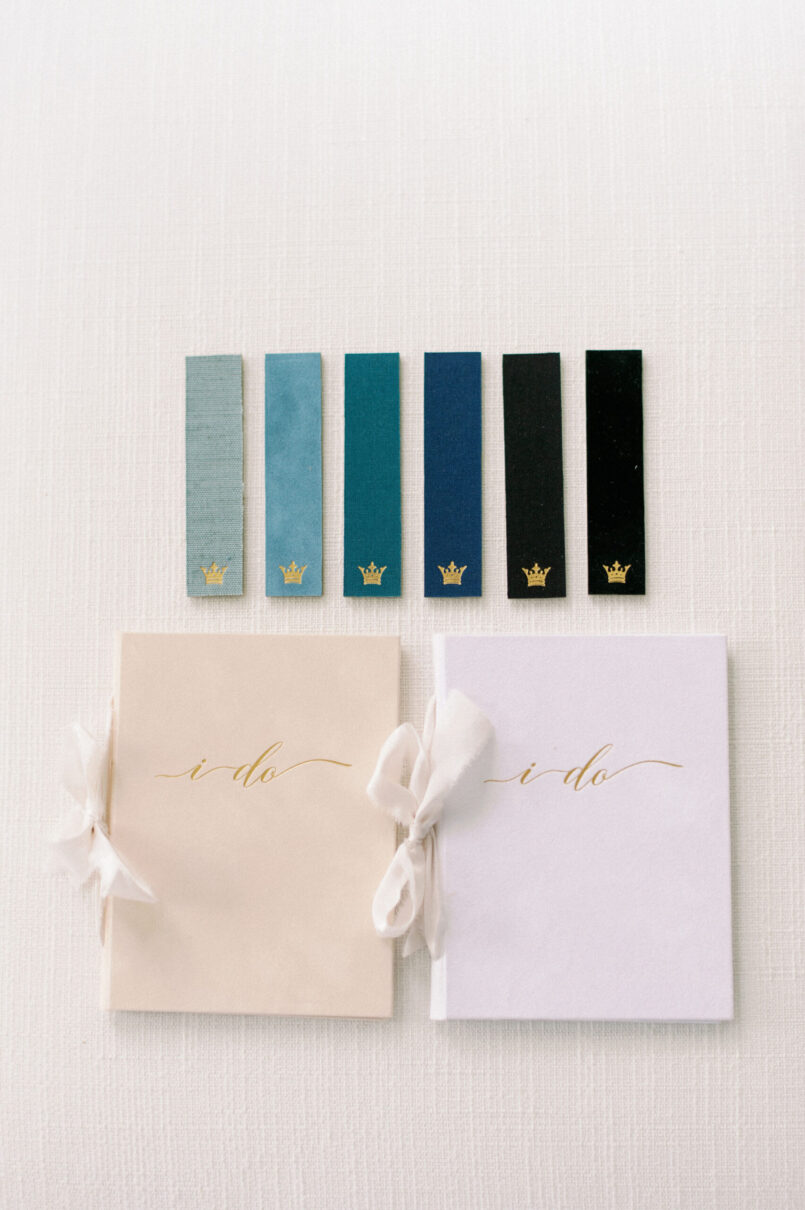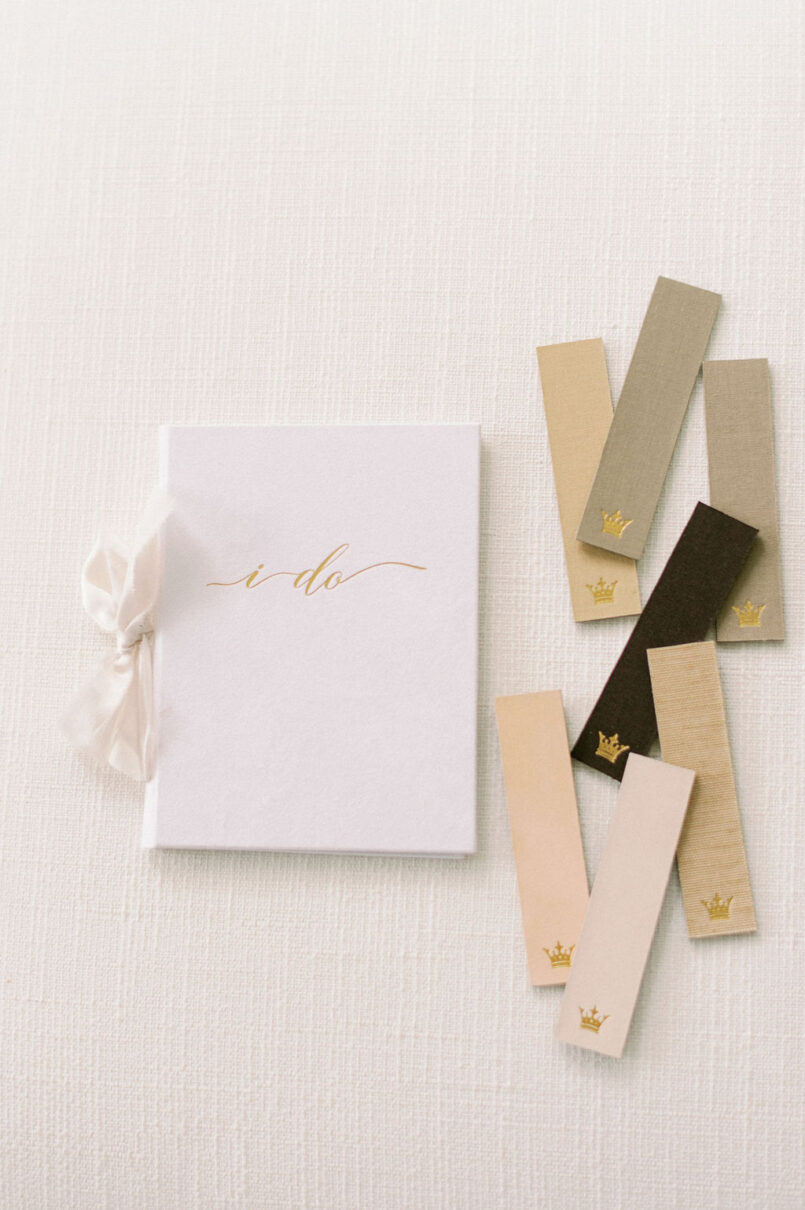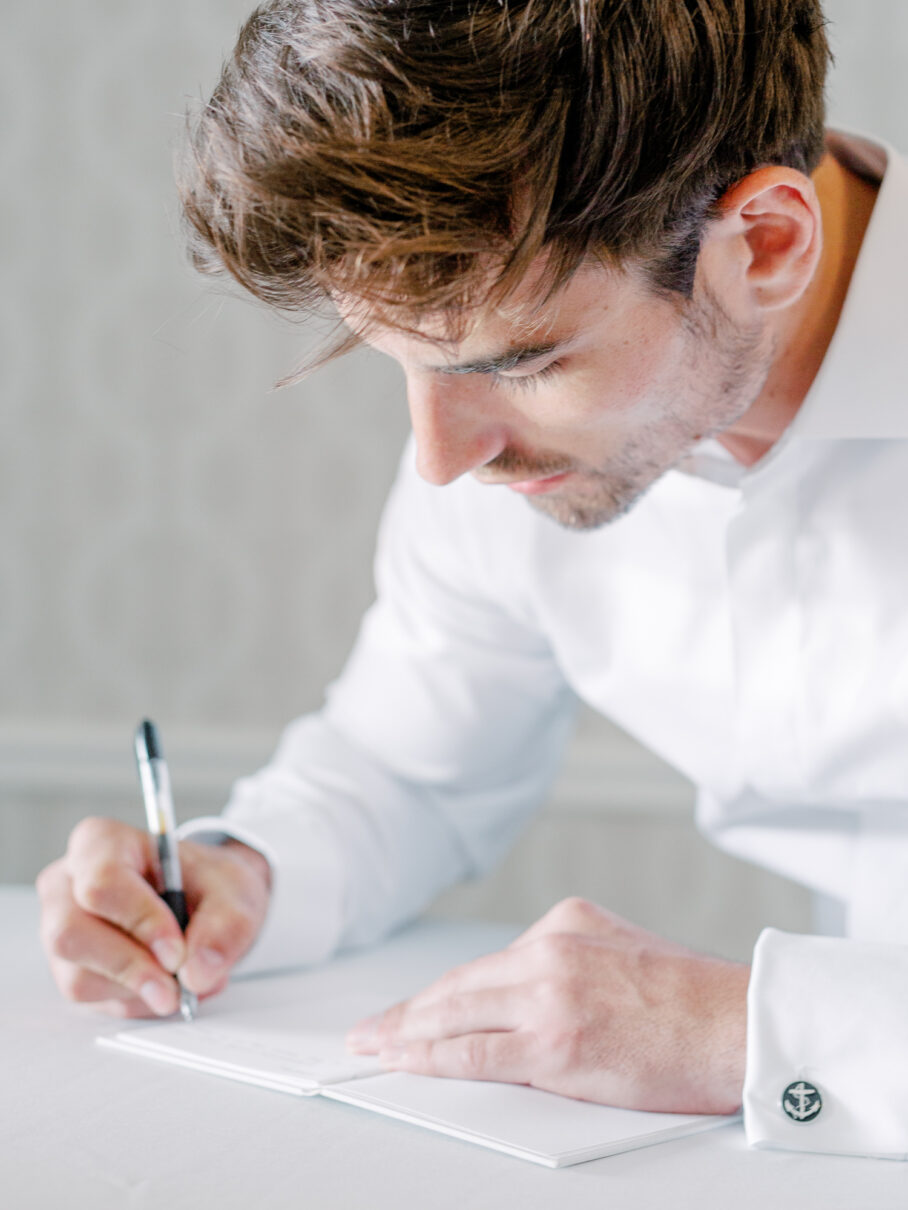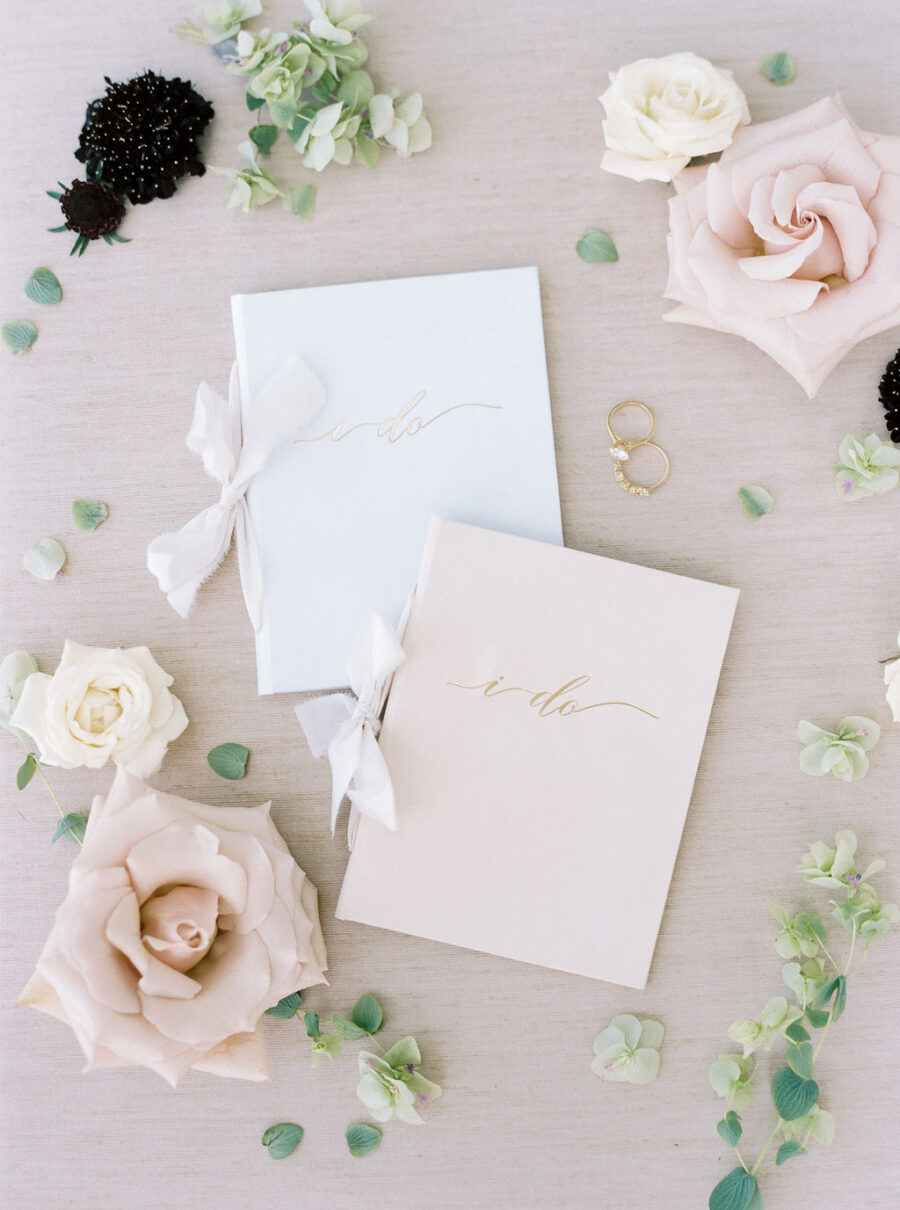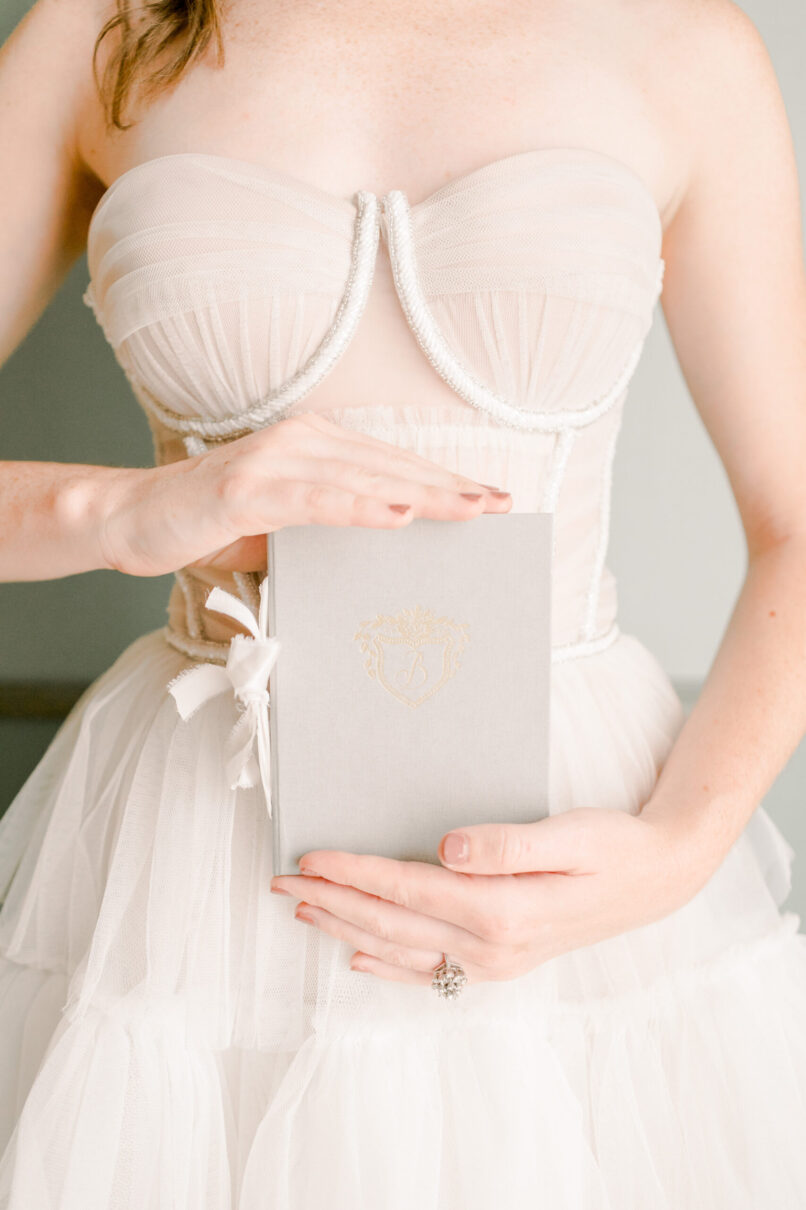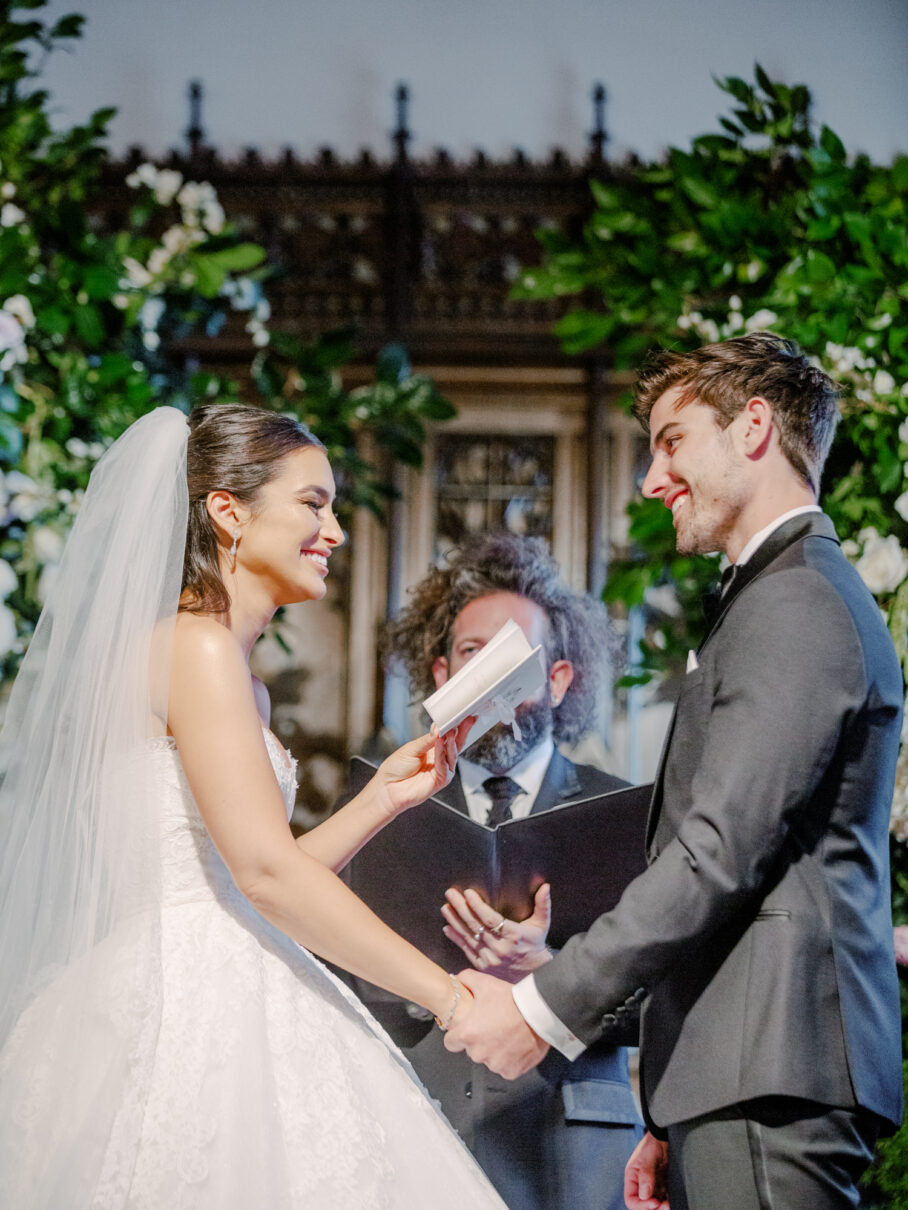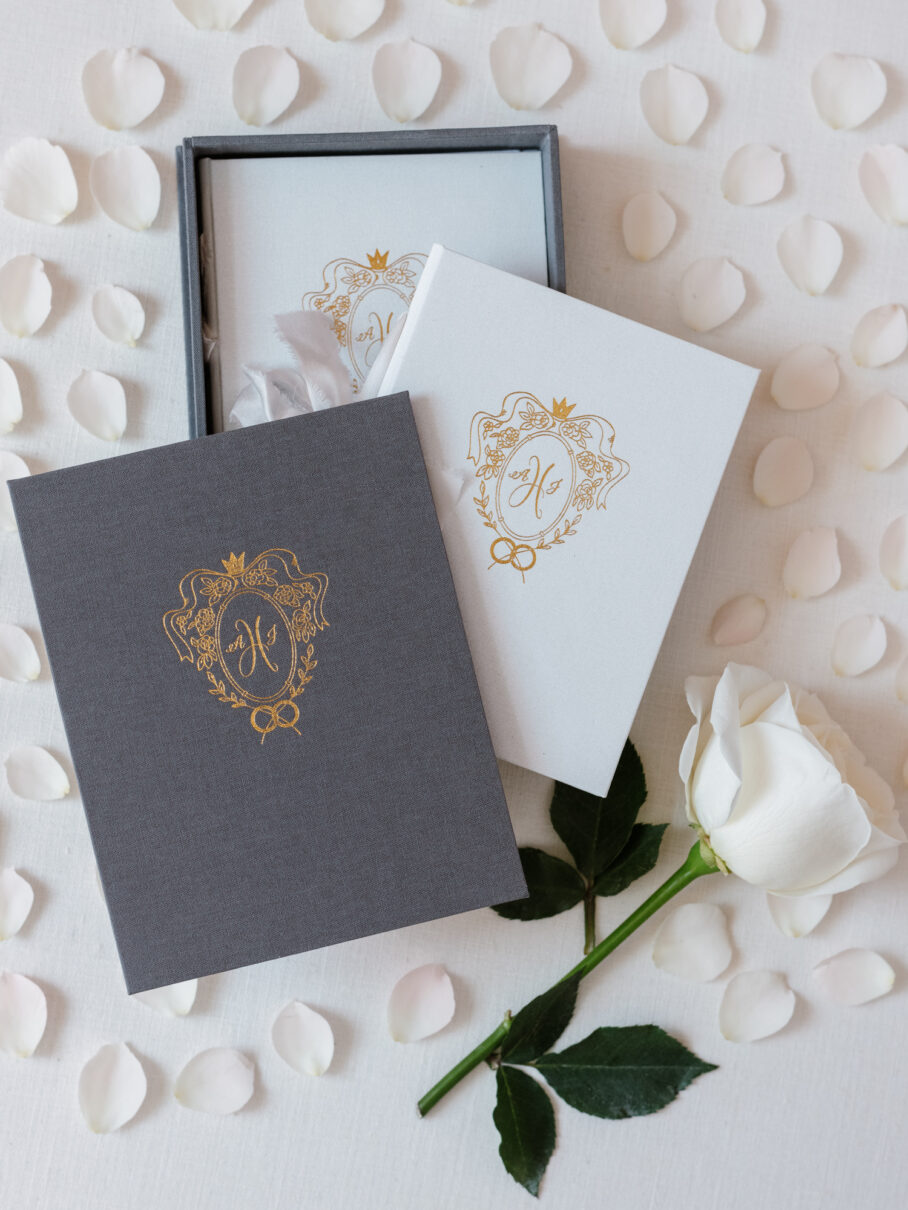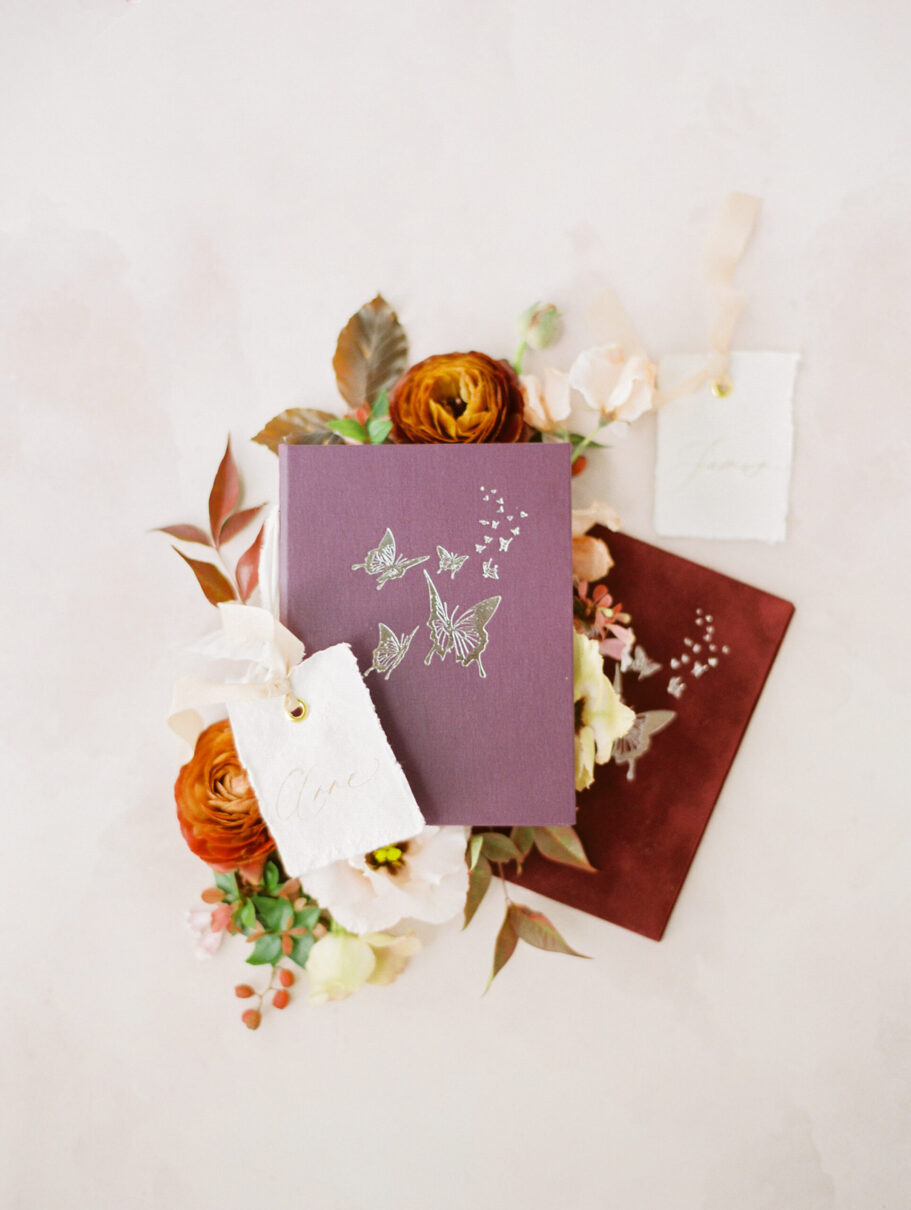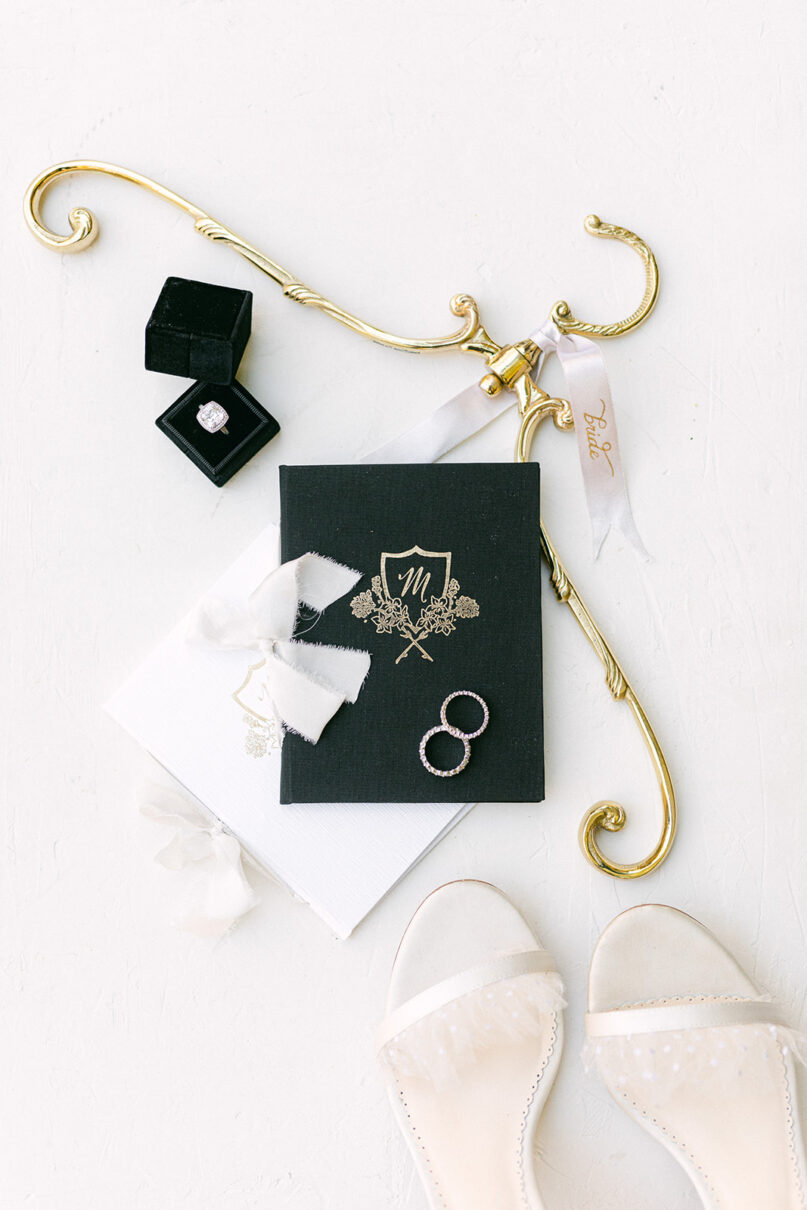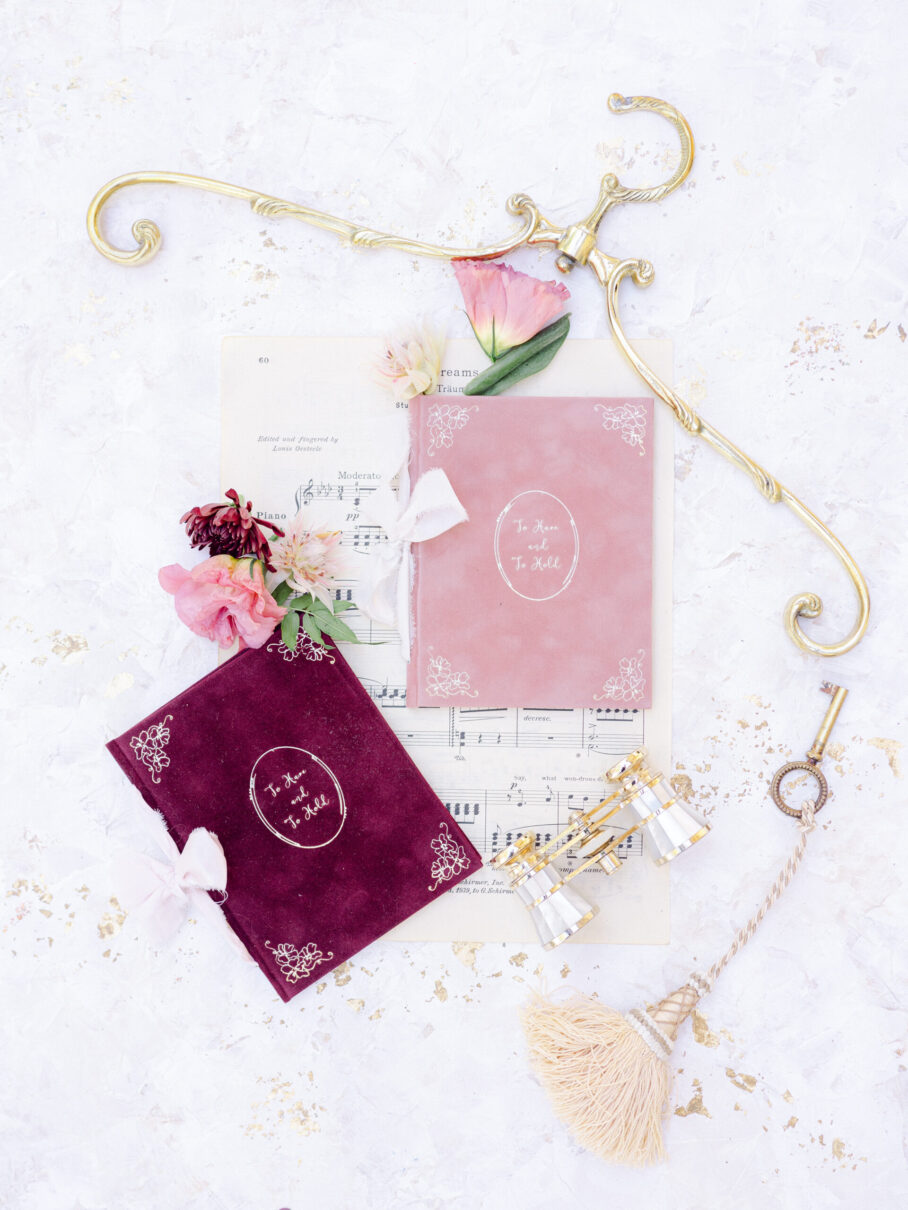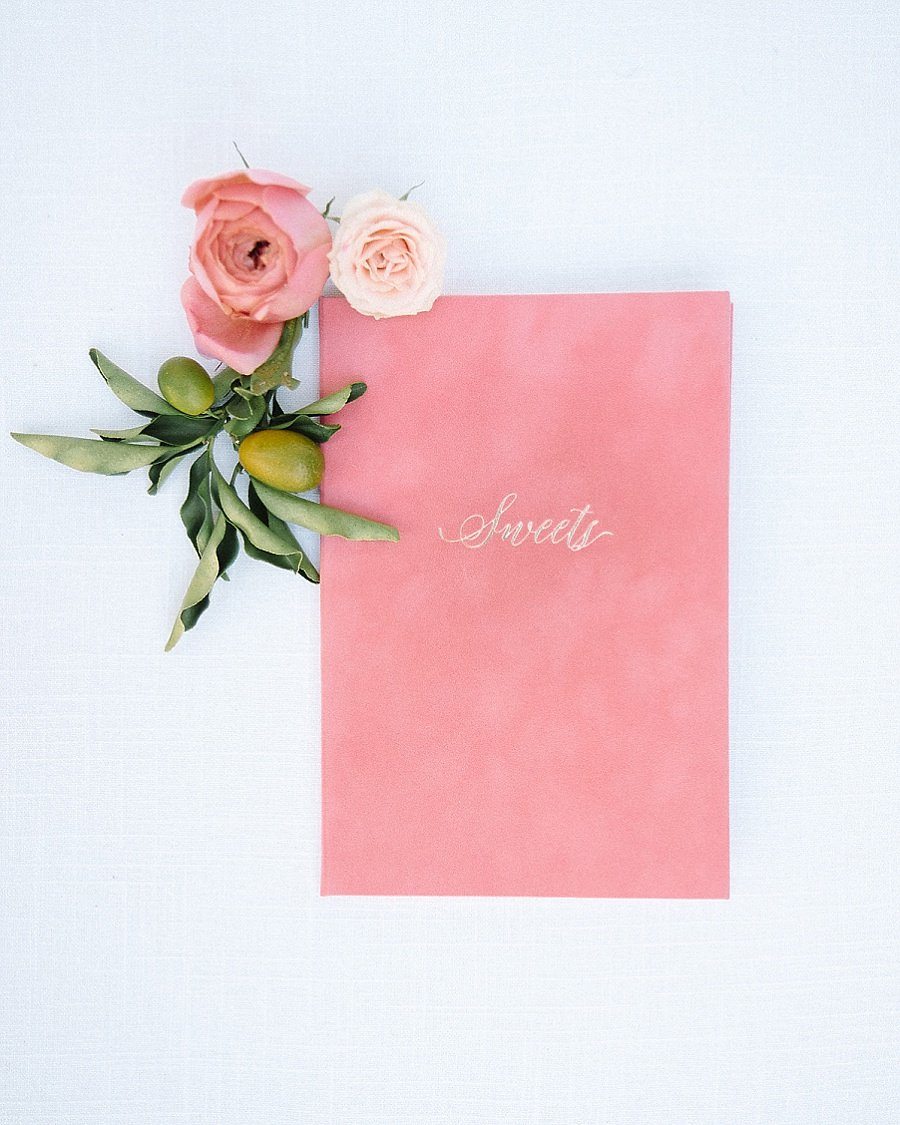 Frequently Asked Questions
HOW DO I PLACE A CUSTOM ORDER?
CAN YOU HELP ME WRITE MY WEDDING VOWS?
WHAT COLORS AND FABRICS DO YOU OFFER?
We are available to compose your vows for you. We set up a 30-minute meeting to learn about your relationship. This gives us food for thought on how to write your vows.
We can also physically write your wedding vows in calligraphy, if you require that service.
We regularly offer about 15 colors, but usually have at least 35 colors and types of bookcloths available from past collections. We can also special order specific colors (if you know the Pantone color code) to perfectly match your stationery suite. If you aren't sure, we will work with you to make that choice.
Our most popular fabric is linen. We also carry flocked velvet, antique or vintage silk velvet, silk, and a few other rare fabrics.
Simply send us an email! You may include your cover and color choices (if you know them) along with your wedding date. We will discuss your project and then invoice you via the secure Honeybook platform. If you don't know which colors to choose, we can help you!
We would love to a create custom vow book for you! Contact us with any ideas you may have. We can then set up a time to Zoom to sort out the details. And yes, we ship worldwide!