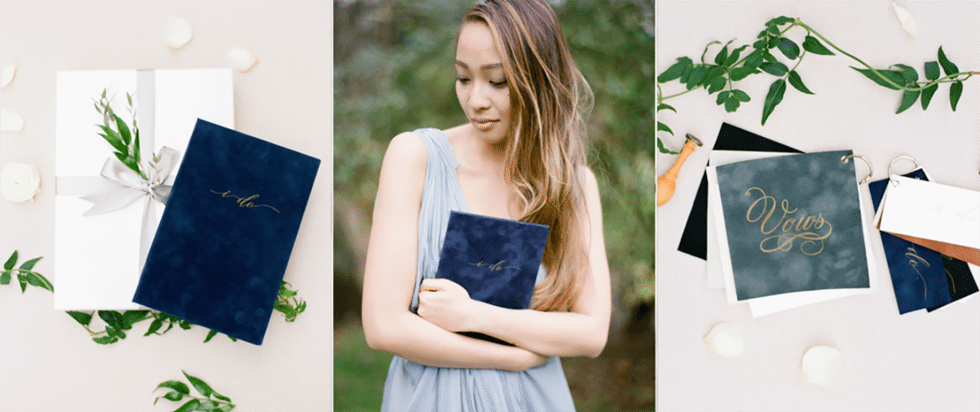 Heirloom Vow Books
Our first vow book design was created by Wedding Story Writer's founder in 2001. Michelle had planned her own wedding, and in the process she created a black and gold paper vow book. It was a lovely book, affixed with a wax seal and tied with a gold silk ribbon. After the wedding, she stored it away along with her other wedding day memorabilia, taking it out every anniversary to reflect back on their special day.
Move forward to the inception of Wedding Story Writer, born in 2011, when Michelle began to see a need. It wasn't often verbally expressed, but showed up in weddings photos–the need for heirloom items, specifically a vow book. Couples were often using scraps of paper to read their vows–and not always a pretty scrap. Thinking back to her own wedding vow book, Michelle recreated the book she had, going through several prototypes until she found one that was not only functional and beautiful, but that would hold up well to the test of time–long enough to be reused by future family members many times over.
Our vow books are hand-made by the Wedding Story Writer team in Cary, NC, directly overseen by our art director, Erick Luces. This enables us to cut out the middlemen and control the whole creation process from A to Z to ensure quality and precision. No vow book leaves our studio without passing a quality inspection. Each vow book we make is specific to one couple. We do not create and store books to sell in large lots. We take pride in our custom work and build relationships with our brides and grooms instead of seeing them as a number.
Our vow book designs are created to reflect the love you share with your future spouse, adding the romance of your wedding through beautiful calligraphy, illustrations and a wide choice of acid-free archival-quality paper. We use the finest book cloths, including linen, flocked velvet, and the occasional rare vintage fabric available in limited quantities, all available to order via our website. If you have another fabric in mind, please contact our team.
ASSEMBLY:
Shorter or traditional vows are written and inserted within the vow book under silk ribbon. We add up to two folded pages to your book, called "signatures," allowing ample room for longer vows, illustrations, poems, or any special addition. Years later, the book may be reused again by your children by simply removing your vow pages.
ORDERING:
To begin the process of ordering a custom vow book: Please contact us via our contact form and include your wedding colors and any ideas you have in regards to your custom vow book. We ask that you supply your wedding vows to us so that we can determine how much calligraphy is required. If you need help creating your vows, or simply don't have ideas in regards to what you want, we can help walk you through the process, as it can be quite daunting.
Depending on the type of art within your vow book, it may take up to 10 weeks to create, but you will be assured it is absolutely one of a kind, a treasure you and your future family will cherish for generations to come!
Wedding Storybooks
After many years of being married, perhaps starting a family all the while life is at warp speed ahead, you will want to relive those precious moments as they occurred when you were young, madly in love newlyweds. Your children will enjoy listening to your story as you read from your storybook. You cannot and should not trust your memory to this. Time goes by quickly and the details of your wedding story are lost forever. Eventually you will only remember the basics. Perhaps you will remember a good amount of decoration detail, but you won't remember what your grandma said that made the room erupt in laughter or the tears she shed as you walked down the aisle.
You will grow older, perhaps being blessed with adoring grandchildren. They will treasure your storybook, keeping your legacy alive forever. You and your spouse's love story will be an epic adventure for future generations to read to their own children and grandchildren.
We truly love each couple with whom we come into contact, enjoying their love stories almost as much as they do! We begin our confidential interview process as soon as our contract is signed, setting up time via telephone or Skype to interview you at your convenience. During this time we really get to know one another merely by conversation. Our interviews do not feel stiff–they truly are just friendly conversations with questions that lead into important life information, stories that are aching to be told. As your wedding day approaches, we are as excited as you are for your special day to come!
The Process
Always early, we arrive to your wedding and observe everything we see, touch, hear, taste, or smell. Your conversations will be noted and you will truly be surprised with the amount of information we pick up during your day when you are otherwise distracted by what seems to be a million different things going on. Your wedding story writes itself, we are merely the professional team who holds the pen.
We are there from the moment we agree until you leave your reception. We interview key people in your life, making sure their stories are documented or setting up a time to speak after the wedding when we begin editing your story. Our editing process takes 3-5 months with our team emailing you content to review. Once approved, we send your story to our editor for final inspection and then your layout design begins. You may choose from one of our collection book styles or have the option to have a fully custom book cover, size and design created. The sky is the limit!
Beautiful to behold, our fine art bindings are created to protect your wedding story's pages for generations to come. To ensure exquisite workmanship and superior attention to detail, we work only with the finest binderies in the world. Our bespoke books are created using top-grade protective and archival materials and can include pages printed using traditional letterpress techniques, hand-marbled and other fine papers. The use of superior quality paper is standard in the creation of all Wedding Story Writer products.
Your book will take approximately six months to create after your wedding, sometimes longer depending on the amount of customization. Your book will arrive in an exquisite custom book box designed to keep your book safe throughout the years.
Our day-of wedding story packages start at $6,600 plus tax and travel fees.
LIMITED AVAILABILITY
To learn more about our wedding story process or to schedule a complimentary consultation, please fill out our contact form or stop by our Timeline page.
Programs, Invitations and Welcome Books
We love taking on new and exciting design projects! Creating programs, boxes, welcome books and love story invitations is something that excites us, as every client has his or her own vision that should be expressed in a custom design.
We use the finest paper products to create your heirloom books and artwork, including hand-marbled papers and letterpress-friendly 100% cotton Crane's Lettra, used by the late Queen Mum herself. The use of superior quality paper products is standard in the creation of all Wedding Story Writer book products. We enjoy using hand-made papers such as Loki (made in the Himalayan Mountains in Nepal) and locally sourced papers made by American artisans.
If you are interested in custom projects, please contact us for a quote.
Calligraphy
Offerings within your book's pages include meticulously calligraphed vows, poems and love letters with stunning borders, illustrations and calligraphy in a variety of styles, both traditional and modern.
Content Creation
Do you need help creating written content for your wedding?
We are available to help you compose your love story in several different ways, whether it be for your wedding blog, wedding program, invitations, or by creating a wedding announcement for your newspaper.
Need calligraphy? Please contact us! To learn more about content creation please fill out our contact form to let us know what project you have in mind. We are happy to provide a complimentary consultation.
Illustrations & Artwork
Your custom book illustrations will be completed in your choice of medium: watercolor, ink, acrylic, or pencil. We also offer unique illuminated manuscripts: 23 k gold leaf gilding artwork created by the world's finest calligraphers. Whether the illustrations are hand-drawn, painted, or digitally created, our artists are appointed for their unparalleled ability to visually render your wedding day. The sky is the limit. There is no concept is too complex for our creative team!
Letterpress, Blind Embossing & Foiling
Letterpress is a relief printing method, with type and images pressing into paper. Credit is usually given, in 1450s Europe, to Johann Gutenberg. Its tactile feel, luscious papers, and made-by-hand ethos make it the most refined method of expressing love and commitment via our wedding story books, vow books, wedding invitations, and complementary materials.
Our letterpress papers are quality, time and labor intensive prints made only one at a time specifically for your book. Each paper is unique and offers variations of impression and ink color coverage. These exquisite pieces of art add depth and value to your book, creating a warm, rich heirloom-quality piece that you and your future family will treasure throughout the ages. Please inquire for a quote on your project.
Foil embossing (stamping) adds a metallic or matte coloring to paper and books. It is applied with heat and pressure, with elegant results in a variety of colors and finishes, oftentimes but not exclusively to Wedding Story Writer book covers and paper products.
Blind embossing adds an impression but without a foil or color, leaving an inverted space with a fabulous tactile sensation for the touch and a minimal beauty to the eyes.