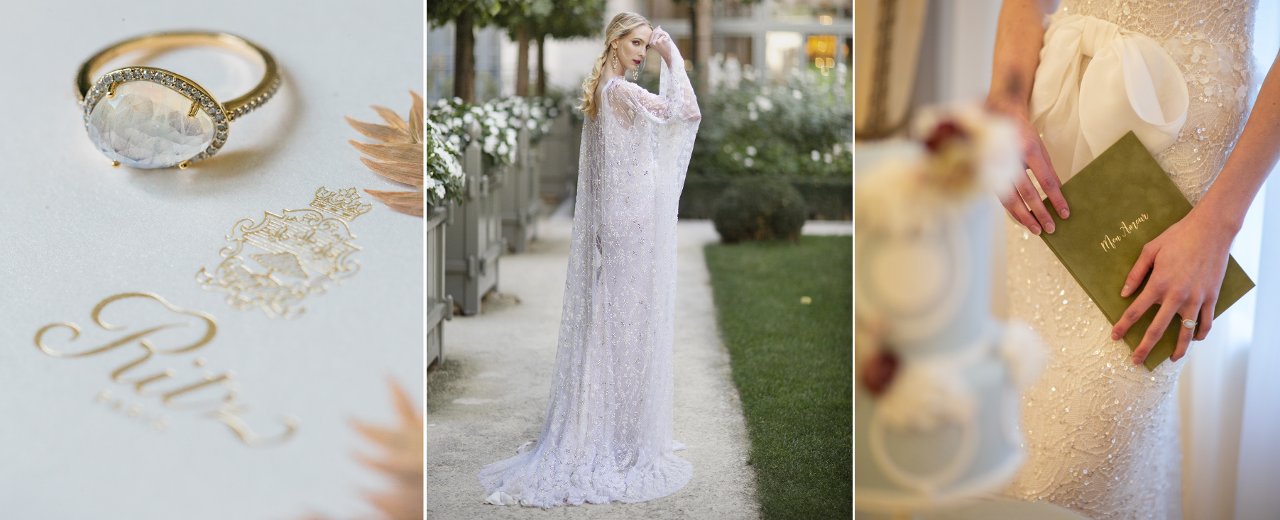 Wedding Vows
Many couples need assistance when it comes to writing their wedding vows. We are here to help create custom personal wedding vows that may make you shed a tear or two. No two vows are ever alike and we do not reproduce vows we have written for other couples.
It starts with a 30-60 minute conversation with Michelle, preferably via Skype or Facetime, but we can also conduct a phone call. We talk about your love story, how you met and fell in love, the type of vows you are seeking (serious, slightly humorous, religious, etc.). After the interview, we write your vows–approximately 300-400 words each. You can share your vows before your wedding ceremony or you can keep them private.
Want your vows to be a surprise? No problem. We can make arrangements to be sure your vows are not leaked to your significant other before your wedding.
Our vow writing service fee is $350. This includes up to a one-hour conversation and up to three revisions. We deliver your vows in a Word and PDF format.
Content Creation
Do you need help creating written content for your wedding?
We are available to help you compose your love story in several different ways, whether it be for your wedding blog, wedding program, invitations, or by creating a wedding announcement for your newspaper.
Need calligraphy? Please contact us! To learn more about content creation please fill out our contact form to let us know what project you have in mind. We are happy to provide a complimentary consultation.
Boxes, Programs, Invitations and Welcome Books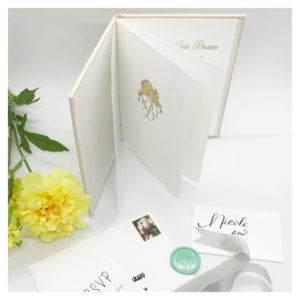 We love taking on new and exciting design projects! Creating programs, boxes, welcome books and love story invitations is something that excites us, as every client has his or her own vision that should be expressed in a custom design.
We use the finest paper products to create your heirloom books and artwork, including hand-marbled papers and letterpress-friendly 100% cotton Crane's Lettra, used by the late Queen Mum herself. The use of superior quality paper products is standard in the creation of all Wedding Story Writer book products. We enjoy using hand-made papers such as Loki (made in the Himalayan Mountains in Nepal) and locally sourced papers made by American artisans.
If you are interested in custom projects, please contact us for a quote.
Calligraphy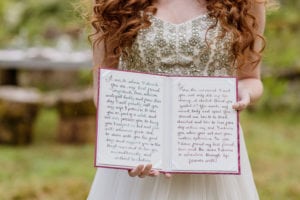 Offerings within your book's pages include meticulously calligraphed vows, poems and love letters with stunning borders, illustrations and calligraphy in a variety of styles, both traditional and modern.
Illustrations & Artwork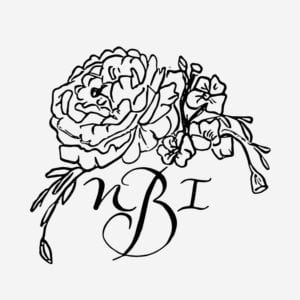 We create custom logos to use for your wedding, whether it be on your invitations, thank you notes, or on your wedding cake! Your custom illustrations will be completed in your choice of medium: watercolor, ink, acrylic, or pencil.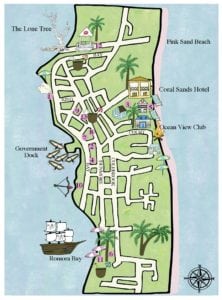 Custom maps are available by request.
We also offer unique illuminated manuscripts: 23 k gold leaf gilding artwork created by the world's finest calligraphers. Whether the illustrations are hand-drawn, painted, or digitally created, our artists are appointed for their unparalleled ability to visually render your wedding day. From refined to whimsical, the sky is the limit. There is no concept is too complex for our creative team!
Letterpress, Blind Embossing & Foiling
Letterpress is a relief printing method, with type and images pressing into paper. Credit is usually given, in 1450s Europe, to Johann Gutenberg. Its tactile feel, luscious papers, and made-by-hand ethos make it the most refined method of expressing love and commitment via our wedding story books, vow books, wedding invitations, and complementary materials.
Our letterpress papers are quality, time and labor intensive prints made only one at a time specifically for your book. Each paper is unique and offers variations of impression and ink color coverage. These exquisite pieces of art add depth and value to your book, creating a warm, rich heirloom-quality piece that you and your future family will treasure throughout the ages. Please inquire for a quote on your letterpress project.
Foil embossing (stamping) adds a metallic or matte coloring to paper and books. It is applied with heat and pressure, with elegant results in a variety of colors and finishes, oftentimes but not exclusively to Wedding Story Writer book covers and paper products. Because we foil emboss in-house, there is usually a quicker turn-around for rush projects.
Blind embossing adds an impression but without a foil or color, leaving an inverted space with a fabulous tactile sensation for the touch and a minimal beauty to the eyes.
The Story Behind Our Heirloom Vow Books
Our first vow book design was created by Wedding Story Writer's founder in 2001. Michelle had planned her own wedding, and in the process she created a black and gold paper vow book. It was a lovely book, affixed with a wax seal and tied with a gold silk ribbon. After the wedding, she stored it away along with her other wedding day memorabilia, taking it out every anniversary to reflect back on their special day.
Move forward to the inception of Wedding Story Writer, born in 2011, when Michelle began to see a need for vow books. It wasn't often verbally expressed, but showed up in weddings photos–the need for heirloom items, specifically a vow book so that couples no longer had to rely on memory or scraps of paper at the altar.
Couples were often photographed using scraps of paper to read their vows–and not always a pretty scrap. Thinking back to her own wedding vow book, Michelle recreated a variation of the book she had made years before, going through several prototypes until she found one that was not only functional and beautiful, but that would hold up well to the test of time–long enough to be reused by future family members many times over.
Our vow books are hand-made by the Wedding Story Writer team in Cary, NC, directly overseen by our art director, Erick Luces. This enables us to cut out the middlemen and control the whole creation process from A to Z to ensure quality and precision. No vow book leaves our studio without passing a quality inspection. Each vow book we make is specific to one couple. We do not create and store books to sell in large lots. We take pride in our custom work and build relationships with our brides and grooms instead of seeing them as a number.
Our vow book designs are created to reflect the love you share with your future spouse, adding the romance of your wedding through beautiful calligraphy, illustrations and a wide choice of acid-free archival-quality paper. We use the finest book cloths, including linen, flocked velvet, and the occasional rare vintage fabric available in limited quantities, all available to order via our website. If you have another fabric in mind, please contact our team.
ASSEMBLY:
Shorter or traditional vows are written and inserted into the vow book under silk ribbon. We add up to two folded pages to your book, called "signatures," allowing ample room for longer vows, illustrations, poems, or any special addition. Years later, the book may be reused again by your children by simply removing your vow pages.
ORDERING:
To begin the process of ordering a custom vow book: Please contact us via our contact form and include your wedding colors and any ideas you have in regards to your custom vow book. We ask that you supply your wedding vows to us so that we can determine how much calligraphy is required. If you need help creating your vows, or simply don't have ideas in regards to what you want, we can help walk you through the process, as it can be quite daunting.
Depending on the type of art within your vow book, it may take up to 10 weeks to create, but you will be assured it is absolutely one of a kind, a treasure you and your future family will cherish for generations to come!