Inqu and Fabian met when he moved to New York City from Switzerland. She first thought Fabian was a sort of playboy after their first date but realized shortly afterward that it wasn't the case. Fabian says he knew Inqu was "the one" on the first date, so they had a different first thought or opinion, however, they soon found themselves head over heels in love!
Their wedding took place the first week of May at the gorgeous The St Regis Bal Harbour Resort on Miami Beach. The bride was relaxed yet playful in her custom-made Galia Lahav wedding gown and beautiful cape, finishing her look with stylish Christian Louboutin shoes.
About their look: "My dress was a handmade Ghalia Lahav couture gown. I decided to do a cape instead of a veil and that was also by Ghalia Lahav. My hair jewels were by Swarovski. My shoes were Swarovski encrusted Christian Louboutin. The ladies at The Little White Dress bridal shop in Denver helped me put the look together. It was a lot of intricate jewels and beading that had an elegant look in the end. His suit was a Giorgio Armani blue tuxedo and dress shirt with bow tie. His black leather dress shoes were by Salvatore Ferragamo.  He didn't want to do a classic black tux.  Given it was Miami, we set the dress code to "formal, colorful and glamorous" so he nailed it with this one."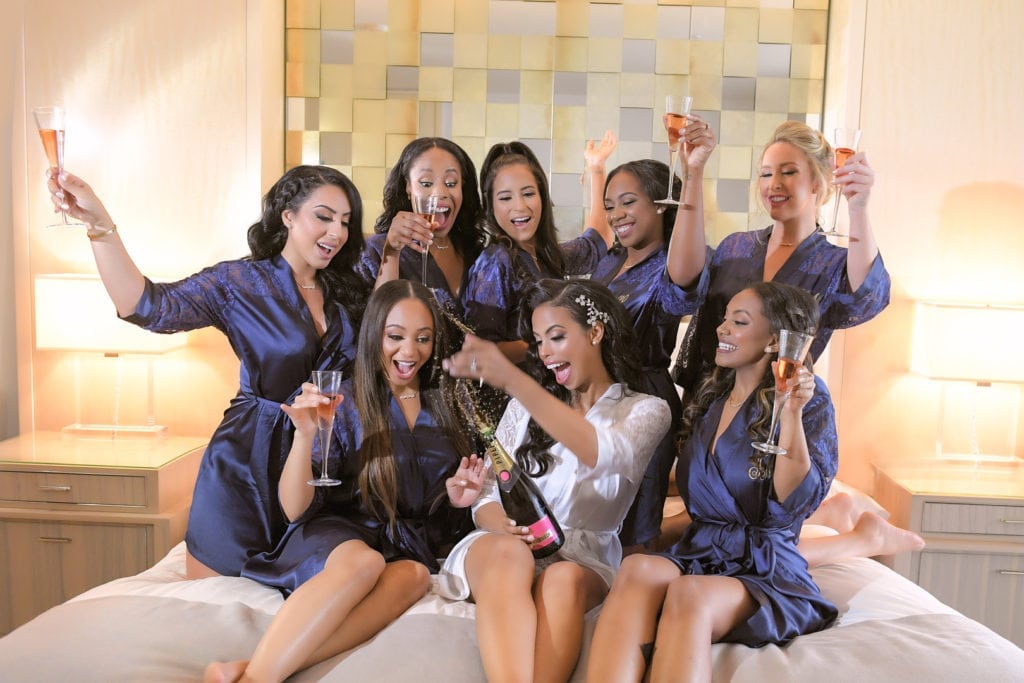 Inqu and Fabian's event planner Melissa Davis planned an indoor wedding to beat the heat and rain from that day. The St. Regis Hotel was extremely accommodating and allowed their photographer to shoot anywhere inside their lovely resort. They accommodated the couple by opening up the wine vault for their unforgettable first look.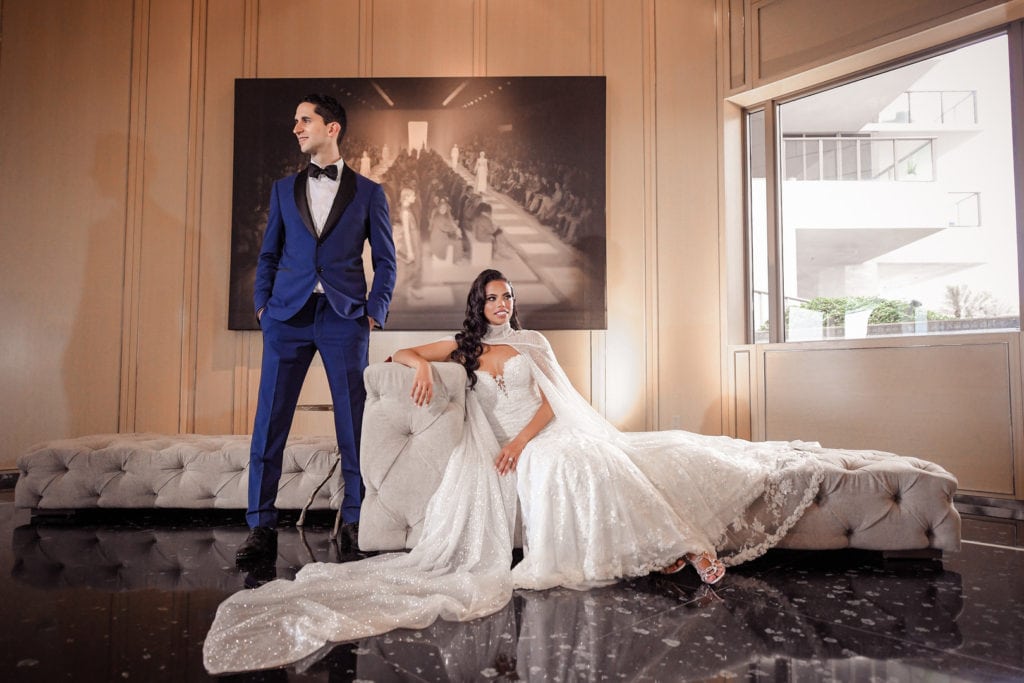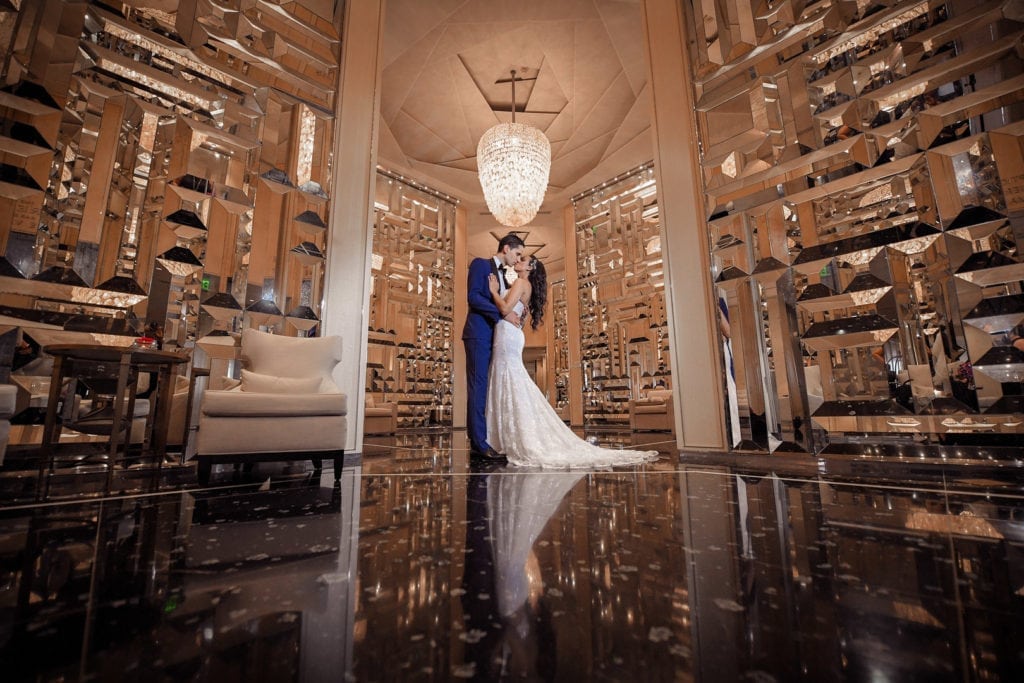 Their ceremony took place overlooking the stormy ocean, under a white altar adorned with the most colorful array of purple and blue flower combinations. Their photographer team took advantage of the natural light this backdrop provided and it worked out beautifully. Inqu surprised Fabian by saying her vows in Swiss German from memory (she had lots of help from a colleague at work). He was pleasantly surprised by her efforts!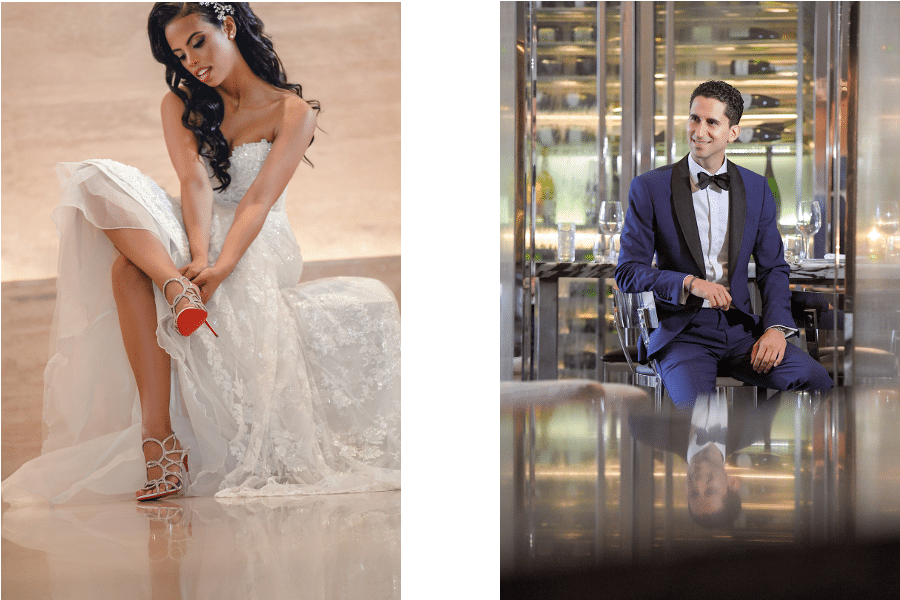 The couple's colorful wedding reception took place in the Astor Ballroom which has intricate ceilings, mirrors and wood panels. This combined with their bright florals (orchids, calla lilies, hydrangeas, and orchids) with candles, gold details, and crystals, making it a truly stunning party room. Everyone was fun and relaxed and in a celebratory mood. The couple had a wonderful dance with lifts, lots of dancing with the guests (thanks to the Rock With U DJ) amazing catering, and a 4-tiered wedding cake.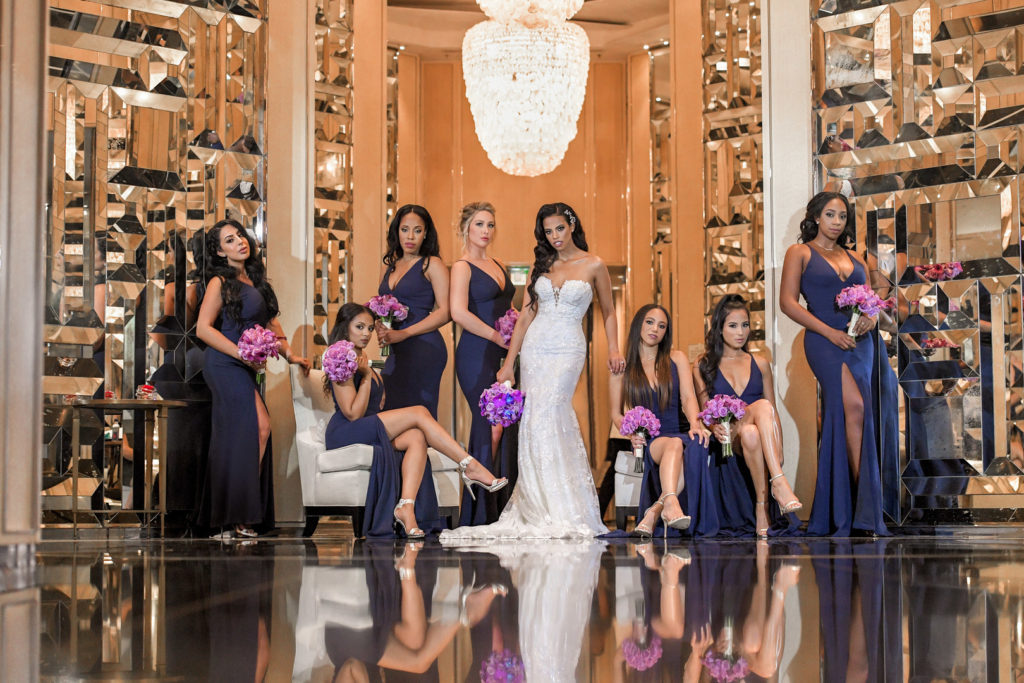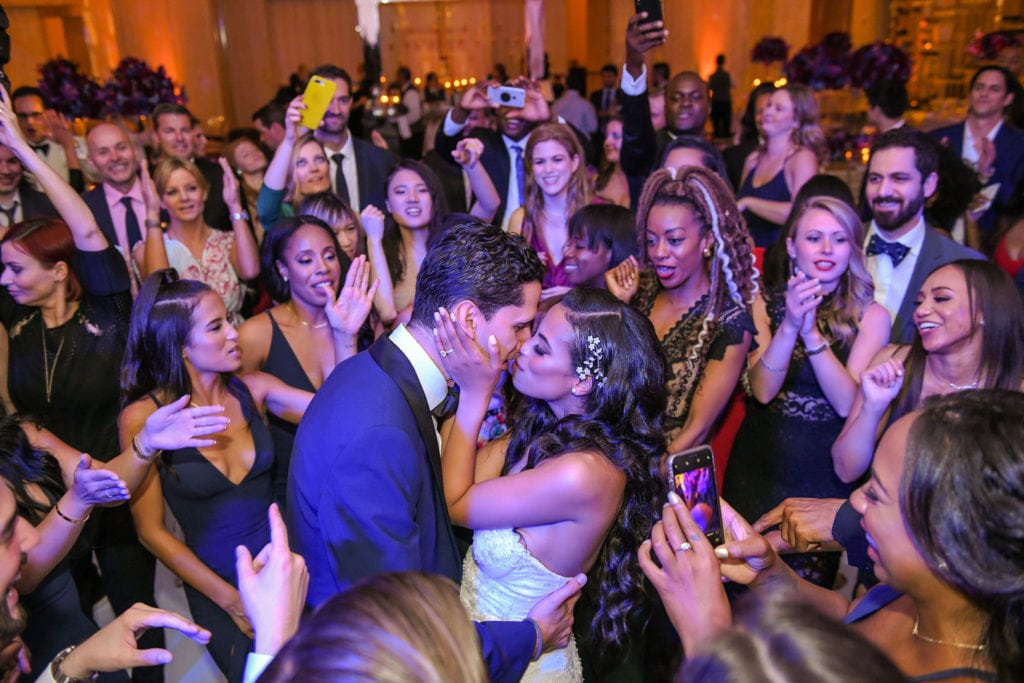 Inqu explained her wedding ideas, "Our wedding destination was a choice that showed our more outgoing and fun sides. We figured just about everyone was traveling so we wanted to bring them somewhere exciting! Our color palette was blue, dark purple and light purple during the day and cocktail. For the reception, we chose dark blue, dark purple and bright red. We wanted to make it colorful yet tasteful, just like us and all of our guests!"